QEP Co. UK Ltd.'s Product Showcase
New Vitrex.co.uk website
Vitrex are delighted to reveal their new and improved website www.vitrex.co.uk, which is packed with helpful product information on the Vitrex range of tiling & flooring equipment, tools & accessories.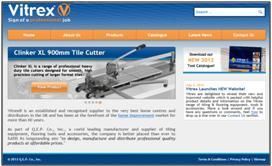 The new user friendly website gives customers detailed, technical information and close-up photographs of all the quality Vitrex products. There is also a company history of Vitrex from the early days in 1939, through to becoming part of the QEP group in 2004 and the very latest news about the company and new product launches.
Electronic copies of all the Vitrex flooring & tiling accessories brochures are available to download, and if customers have any questions or comments, they can drop us a line over in the contact us section.
Tel: +44 (0)1253 789180
www.vitrex.co.uk
Product information direct from QEP Co. UK Ltd. click here to enquire
Click here to find out more about QEP Co. UK Ltd. including contact details

N.B. The information contained in this entry is provided by the above supplier, and does not necessarily reflect the views and opinions of the publisher