QEP Co. UK Ltd.'s Product Showcase
Vitrex 250W Multi-Tool & Accessory Packs
New from QEP, the world's leading supplier of tiling & flooring installation equipment - the Vitrex Multi-tool accessory packs.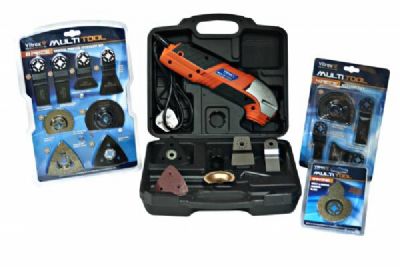 The Vitrex 250W Multi-tool
is a powerful & versatile multi-functional tool for a wide variety of renovation jobs.
Suitable for both the professional tradesman & DIY enthusiast, the Multi-tool is supplied with:
l
Grout Removal Tool
l
Paint & Wallpaper Scraper
l
Sanding Pads x3
l
Plunge Cut & Undercut Saw
l
LED Light
l
Dust Extraction Attachment
The Multi-tool can be used at various angles making it perfect for any project, the attachment change system is quick & easy and it is supplied with a robust storage case.
Now there are also 3 new Vitrex Multi-tool accessory packs available - ideal for use with the Vitrex 250W Multi-tool. The multi-blade fitments will also fit most multi-function tools from other manufacturers including Einhell, Bosch Fein & Makita.





2-in-one Grout & Mortar Remover Blade

tungsten carbide grit blade ideal for removing grout & tile adhesive.







4 Piece Accessory Pack

with radial saw blade, 2 x bi-metal flush cut wood saw blades & rigid scraper.





8 Piece General Purpose Accessory Set

with wood saw blade, metal saw blade, rigid scraper, flexible scraper, carbide grit saw blade, carbide grit sanding pad, radial saw blade & sanding pad.



Tel: 01253 789180
www.vitrex.co.uk
Product information direct from QEP Co. UK Ltd. click here to enquire
Click here to find out more about QEP Co. UK Ltd. including contact details

N.B. The information contained in this entry is provided by the above supplier, and does not necessarily reflect the views and opinions of the publisher