Everbuild Building Products Ltd's Product Showcase
Geo-Fix - The Box Clever Choice!
Geo-Fix, the market leading Brush applied Paving Jointing Compound available exclusively from Everbuild, is now available in an additional 7.5kg boxed size!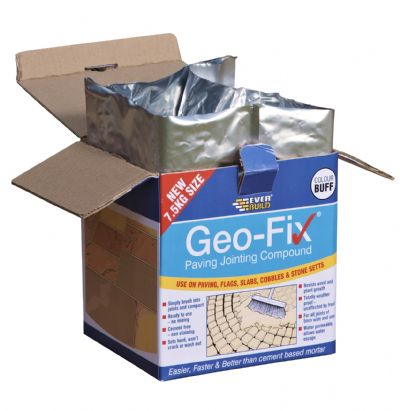 When it was first introduced to the market Geo-Fix broke the mould for being the original Paving Jointing Compound and now the brand has changed the rules again with the introduction of Geo-Fix in a Box . With the majority of competitor products coming available in plastic tubs, Geo-Fix in a box disrupts the norm of what is expected from a typical Paving Jointing Compound. Everbuild believe that Geo-Fix in a box offers something new and innovative to other products on the market which continues to keep the brand fresh at the forefront of both customer and user minds.
Geo-Fix in a box is exactly the same great Geo-Fix product that customers have come to know and trust simply with a new packaging twist and a brand new size. The 7.5kg box has been expertly designed to be extremely strong so that it will not buckle or collapse and it can be stored, stacked and carried with complete confidence that the product will remain effective and the packaging will always look the part. There is also no plastic in the outer packaging making the box much easier to dispose of - once the product has been used the box can simply be collapsed and thrown into the recycling bin!
In addition to all this, the truly clever thing about Geo-Fix in a box is the convenience of its smaller 7.5kg size. Unlike the larger quantities commonly found of Paving Jointing Compound, Geo-Fix in a box gives the user the choice to buy just the quantity that they need! Ideal for patch ups, repairs and smaller jobs, this new size enables the user to complete the job before curing takes effect, hence reducing wastage once the job has been completed. Geo-fox in a box available in both buff and grey to suit a variety of customer needs.
So in order to minimise wastage and do your bit for the environment choose Geo-Fix 7.5kg the box clever choice!
For more information on Geo-Fix in a box please see the Everbuild website www.everbuild.co.uk or contact your Everbuild Sales Representative.
Product information direct from Everbuild Building Products Ltd click here to enquire
Click here to find out more about Everbuild Building Products Ltd including contact details

N.B. The information contained in this entry is provided by the above supplier, and does not necessarily reflect the views and opinions of the publisher