Yale's Product Showcase
New Digital Door Lock from Yale Offers Higher Value Sales Opportunities
Yale's new retrofit digital lock for timber doors presents strong up-selling opportunities for merchants and retailers.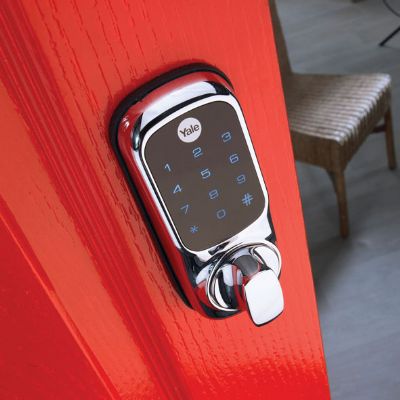 Yale Keyless Digital Lock is the UK s first retrofit digital nightlatch and can be quickly and easily fitted to the majority of timber doors.
The new digital door lock allows consumers to access and secure their home using a personalised PIN code, with no need for a traditional key. The PIN code can be set via a keypad to any 4 to 12 digit number of the user s choice and can be reprogrammed at any time. For added convenience, users can also set up a separate visitor code to provide access for family, friends or tradesmen.
Available in a stylish contemporary polished chrome finish, Yale Keyless Digital Lock is a standalone, battery-operated unit, which has undergone rigorous security and weather testing. It has the option to come with, or without a nightlatch, to allow for seamless retrofitting.
Sorab Khanna, Product Manager, said: Electronic locks have been used in hotels and offices for many years and the same technology, luxury and convenience is now available for the home. Yale Keyless Digital Lock makes life easier and more convenient for every member of the family; it s also great for gadget lovers so it has huge consumer appeal. Essentially, it presents merchants and retailers with the opportunity to secure more high value sales with very attractive margins.
Recommended retail price for the Yale Keyless Digital Lock starts at 119.99 (including VAT). For further information contact the Yale Trade Sales Team on 0845 223 2126.
Product information direct from Yale click here to enquire
Click here to find out more about Yale including contact details

N.B. The information contained in this entry is provided by the above supplier, and does not necessarily reflect the views and opinions of the publisher