Stax Trade Centres's Product Showcase
Extra activity pays off for Stax Group
A flurry of activity by Stax Trade Centres plc during the quarter January to March has paid offwith record sales reported at all five cash and carry branches as well as delivered arm Wishart.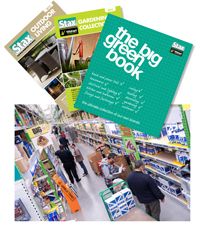 Kicking off the quarter was the publication of the 160 page 2012 garden catalogue closely followed by the launch at Totally DIY of the
Big Green Book
, showcasing the company s own brand ranges. March began with the production of the new 2012 Outdoor Living catalogue and culminated in the last week with a Big Activity Week event attracting over 75 reps and thousands of customers to each of the four English based cash and carries.
Stax Chairman, Eddie Brady, said,
March was our best ever month with the cash and carry division reporting sales of over 10m for the first time and Wishart, our Edinburgh based delivered operation, achieving their best month s figures since joining the Stax group. Customers have, and always will be the key to our success, and during March they came in their droves to take advantage of some great deals, with over 20,000 visiting the Manchester depot alone .


The
Big Activity Week
at the end of March was a hive of activity with representatives from many of the major brands visiting the Manchester, Birmingham, Bristol and Leeds cash and carries. Customers were attracted by special one-week offers, one day promotions from visiting reps, stock and stand deals, competitions and demonstrations as well as the chance to meet and talk to suppliers about new and existing ranges.
Brady continued,
We tried a new format for our Big Activity Week and it was a huge success. Sales peaked at all branches on the day the Reps attended with sales for the week the best for 2012. Our staff and the suppliers all worked extremely hard to make this happen, creating a great atmosphere for customers
.
Product information direct from Stax Trade Centres click here to enquire
Click here to find out more about Stax Trade Centres including contact details

N.B. The information contained in this entry is provided by the above supplier, and does not necessarily reflect the views and opinions of the publisher