Specialist Group Ltd's Product Showcase
Surface protection rolls from £3.99
Specialist Group are currently offering their hard surface, carpet and glass protection rolls at discounted prices.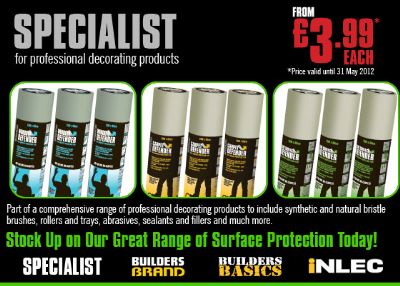 Until the end of May Specialist Group are offering their surface protection rolls from just 3.99 a roll. The film ensures protecton from dust, dirt and spills in all building and decorating jobs. Reverse wound for easy application they can be left down for up to 45 days without leaving any residue. The safer option compared to dust sheets, giving peace of mind. Box quantity comes in an attractive display box of 9 rolls for easy merchandising.
To take advantage of this fantastic offer visit the website at specialistgr.com or contact our sales team on 0161 872 0626.
Product information direct from Specialist Group Ltd click here to enquire
Click here to find out more about Specialist Group Ltd including contact details

N.B. The information contained in this entry is provided by the above supplier, and does not necessarily reflect the views and opinions of the publisher