Stax Trade Centres's Product Showcase
Big Activity Week at Stax - Coming soon!
Over 70 top suppliers will be taking part in the biggest Activity Week ever held at Stax between 24th and 30th March.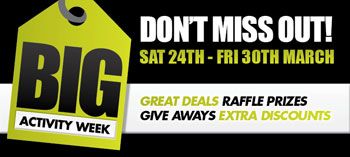 During the whole week
Stax
customers will benefit from some unbeatable deals and special offers, savour some delicious food from special menus, try their luck in raffles and prize draws, see new products and talk to the reps from over 70 top brands.
However, unlike in previous Activity Weeks, the reps will all be attending on one special Reps Day at each of the
Birmingham, Bristol, Manchester and Leeds
branches.
Customers visiting on the Reps Days will be able to take advantage of extra deals and discounts, place special orders, see new products and demonstrations and take home some free give-aways.
The Reps will be visiting on the following days

Monday 26th Leeds
Tuesday 27th Manchester
Wednesday 28th Birmingham
Thursday 29th Bristol
Customers of the Edinburgh branch will be able to take advantage of the weekly offers but this branch will not be having a special Reps Day.
Product information direct from Stax Trade Centres click here to enquire
Click here to find out more about Stax Trade Centres including contact details

N.B. The information contained in this entry is provided by the above supplier, and does not necessarily reflect the views and opinions of the publisher