Stax Trade Centres's Product Showcase
Stax & Wishart launch joint 2012 Garden Collection
The joint Stax & Wishart Garden Collection is already creating a buzz amongst the independents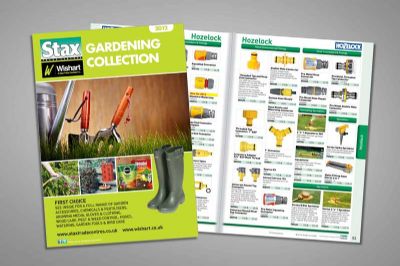 Stax Trade Centres
has recently launched their 2012 gardening catalogue containing a huge selection of gardening products from all the key brands. The catalogue with comprehensive product information and a separate price list, has been specifically designed for ease of use by garden centre retailers.
The 160 page full colour 2012 Gardening Collection, features almost 3,000 products from all the best selling brands, and includes a number of great value stock and stand deals.

In addition a wide choice of SupaGarden lines, the brand designed specifically for retailers, are included.

For the first time the new catalogue will be a joint Stax Trade Centres and Wishart publication as Wishart, the Edinburgh based delivered arm of Stax, looks to increase their garden centre business throughout Scotland.
Stax Purchase Director, Simon Wright, commented,
As the garden sector continues to grow, and our market share increases, we re continuing to place a heavy focus on supporting independent garden centre retailers nationwide. The new catalogue, which we launched early January provides an excellent support tool for both our Reps and delivered customers to work from.
The team of gardening sales representatives are currently distributing the new catalogue to customers and it will also be available on the Stax stand E50 at the Totally shows early February.
The full range of gardening products are available not only on a delivered basis but also cash and carry from each of the four main Stax branches with a reduced range available from the new Edinburgh depot.
For more information or to request a visit by a Rep click here
.
Product information direct from Stax Trade Centres click here to enquire
Click here to find out more about Stax Trade Centres including contact details

N.B. The information contained in this entry is provided by the above supplier, and does not necessarily reflect the views and opinions of the publisher