Am -Tech (DK Tools)'s Product Showcase
Am-Tech 12 in 1 Multi Tool
The new 12 in 1 Multi Tool by Am-Tech is an ideal tool to have around the house, garden and the outdoors. Supplied in attractive secure double blister packaging this would make ideal gift and can be retailed in most markets. Comes supplied in a attractive 12pc Counter Display Unit.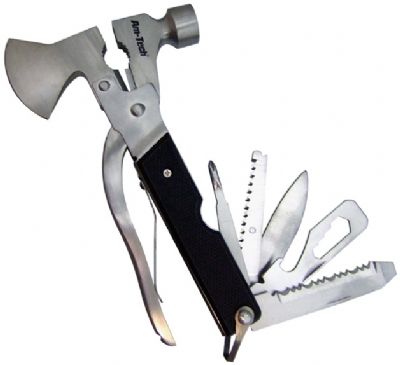 Handy folding multi tool includes mini axe, serrated knife blade, awl and file, large slotted screwdriver, Phillips screwdriver, large and small knife blades, can and bottle opener, long nose plier, regular plier and wire cutter
Supplied with storage pouch
Ideal for the garden, DIY around the home, fishing, hunting and camping
Attractive strong double blister packed and in CDU
To become a stockist of the growing Am Tech brand of 1700 products or to receive promotion proposals and picture quotes simply e-mail Chris Mahon on chris@dktools.com or call on 01895 452522. Trade price list and catalogue available on request.
Product information direct from Am -Tech (DK Tools) click here to enquire
Click here to find out more about Am -Tech (DK Tools) including contact details

N.B. The information contained in this entry is provided by the above supplier, and does not necessarily reflect the views and opinions of the publisher