Printed from the website DIYWeek.net - providing DIY news, views and commercial data tailored to the needs of professionals in the DIY industry
DIY Week.net - http://www.diyweek.net/
Better by design
As part of its commitment to providing complete fixing solutions, leading distributor of fixings, fastenings and associated products, ForgeFix has teamed up with Dudley-based manufacturer FM Products to offer a range of high quality, high performance pipe clips.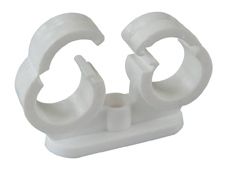 The pipe clip range - which consists of clip lock clips and open clips - is manufactured from heat resistant polypropylene able to withstand pipe temperatures of up to 100 degrees Celsius. Given that most systems operate at around 70 degrees, these clips are suitable for practically every central heating system.
Available in a range of sizes, the clips employ a large base design - preventing plasterboard 'pull through' and providing increased support against side loads – as well as a reinforcing spine down each side for added strength. The open pipe clip range benefits from long, thick arms, which extend further around the pipe to ensure maximum retention of the pipe. The clip lock pipe clips also employ a hinged cover that snaps into place over the top of the pipe to ensure a secure, permanent, all round fixing.
Not content to stop there, ForgeFix offers its customers a range of double pipe clips. These clips allow double pipe runs to be installed accurately while ensuring that pipes run parallel for a more aesthetically pleasing finish. Plus, the use of double pipe clips can also offer users significant cost savings, as only one screw, one plug and one drilled hole are required to secure two pipes.
In addition, ForgeFix has introduced a number of accessories such as pipe clip support posts, which effectively lift the clip by 25mm to allow for lagging to be fitted around the pipe. The business also offers a pipe clip reducer, enabling users to reduce a 22mm clip to a 15mm clip. This is particularly useful in double pipe runs, where the pipes on either side of the clip differ in size.
The range also includes pipe collars, designed to provide a quick, low cost cover around pipe that have been passed through a wall, ceiling, floor or partition. These collars can be easily cut to suit pipes that are in close proximity to the walls or skirting board and are increasingly used by installers as a decorative finish.
Click here to find out more about:
Forgefix