Printed from the website DIYWeek.net - providing DIY news, views and commercial data tailored to the needs of professionals in the DIY industry
Source: DIY Week.net - http://www.diyweek.net/
A number of pond pumps supplied by German water garden specialist Heissner have been recalled because of a danger of electric shock.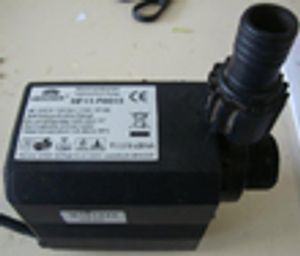 The recalled Heissner pond pumps allow current to flow into the water


The Eco brand pumps have a submersible pump motor, but there is insufficient insulation on the cables for the motors and current can flow into the water. The products, which were made in China in 2010, do not comply with the Low Voltage Directive.

The model numbers of the products affected are: P1100E-00, P1900E-00, P2100E-00, P2900E-00, P3100E-00, FPU7000 (from March 29 2012), WWP3100 00, P3900E-00, P4100E-00, P4900E-00, P5100E (also for FPU1600), P6100E-00, P8100E-00, P10100E-00, P15100E-00 and P20100E-00.

Details of the submersible pump motors are: Type: HF11-P0015, Type HF11-P0020, Type HF11-P0030, Type HF11-P0040, Type HF11-P0050, Type HF11-P0066, Type HF11-P0088, Type HF11-P0110, Type HF11-P0150 and Type HF11-P0200.

The products have been withdrawn from the market and recalled from end users, with a warning of the dangers involved.

Meanwhile, an ultrasonic and electromagnetic pest repeller that claims to be "completely safe for children and most household pets" has been found to pose what the authorities call "a serious risk of electric shock".

The Riddex ZT09031 has no markings and poor assembly components, and the cover can be moved easily and cause overheating, resulting in melting of part of the outer casing and so exposing live parts.

The Chinese-made product does not comply with the Low Voltage Directive or the relevant European standard EN 60335.

The Riddex is being withdrawn from the market, recalled from end users and destroyed.