Printed from the website DIYWeek.net - providing DIY news, views and commercial data tailored to the needs of professionals in the DIY industry
Source: DIY Week.net - http://www.diyweek.net/
Rose Canham from Northamptonshire, has been awarded the title of Young DIYer of the Year by B&Q.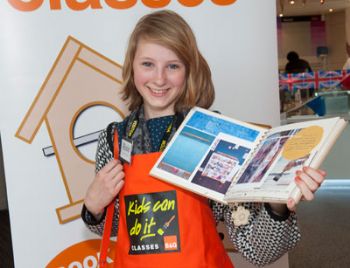 Rose was described by judges as "a mini Kirstie Allsopp"


The 15 year-old beat off competition from 111 other entrants. The contest - for young people aged between 11 and 16 - had been publicised online and in First News magazine.

Five short-listed candidates attended B&Q's HQ in Eastleigh, Hampshire, for the judging day. This included sharing examples of their work with the judging panel and taking part in a kid's workshop where they made their own tool box.

The retailer gave Rose the award "for her enthusiasm about the work that she put together for the project.

"She had some great ideas for future projects and often uses recycled products and a variety of different materials," it said. "All of Rose's projects centre around fixing, decorating and innovation."

B&Q's celebrity ambassador, architect and Channel 4 presenter George Clarke, who was part of the judging panel, said: "She reminds me of a mini Kirstie Allsopp, my fellow ambassador at B&Q."

Rose becomes a B&Q ambassador for a year and will create You Tube videos about her projects and give hints and tips on what young people can do to complete projects themselves.

B&Q also gave Rose an iPad, a selection of tools and a family holiday.