Printed from the website DIYWeek.net - providing DIY news, views and commercial data tailored to the needs of professionals in the DIY industry
Source: DIY Week.net - http://www.diyweek.net/
The Garden Industry Manufacturers' Association (GIMA) is appealing to all suppliers of products which are sold, or could be sold, through any garden retail channels, DIY and/or hardware stores, builders merchants and garden centres to enter the 2012 awards.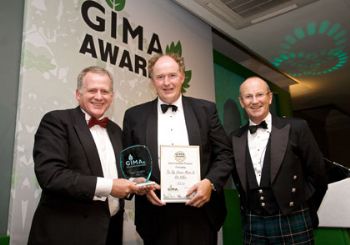 STV md Edwin Allingham at last year's GIMA Awards


Entrants have until June 15 to apply for an award, with categories including outdoor construction, garden materials and growing products. This year's event will take place at the Radisson Edwardian Hotel in London on July 12.

The 2012 judging panel includes Simon Moore from Wilkinson's and Charlie Lacey, director of supplier relations at Decco Ltd.

GIMA said: "Winning an award is a terrific boost for your product sales and the motivation of your team; but just entering and having your product viewed by such a panel of influential and experienced judges is worthwhile too."

Pest control company STV was one of last year's winners. Managing director Edwin Allingham said: "We were delighted to receive such a prestigious award recognising the hard work and creative efforts of STV's marketing team... The overall aim is to win increased distribution for product ranges that deliver real consumer benefits."

For more details on how to enter the awards, visit the GIMA website or call 01214 465213.