Printed from the website DIYWeek.net - providing DIY news, views and commercial data tailored to the needs of professionals in the DIY industry
Source: DIY Week.net - http://www.diyweek.net/
In celebration of all things shed-related, Cuprinol recently commissioned famous shed-lovers Vic Reeves, Christian O'Connell, Joanne Harris, Alex Johnson and Sarah Beeny to create their ultimate "garden havens" which are now open to the public in beauty spots across the country.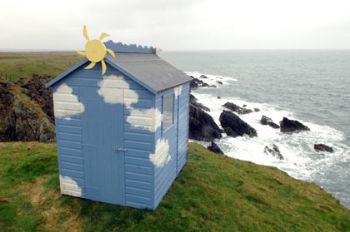 Author Joanne Harris' sky shed, currently open to the public on the Lleyn Peninsula in Wales


It comes as Shed of the Year competition sponsor Cuprinol revealed 30% of all Brits who own a shed named it as their most inspirational place. The celebrity "sheddies" each designed their own retreats in a range of Cuprinol colours in a bid to encourage more shed-lovers to transform their garden dens into havens of creativity.

Research shows that the average shed-owner spends five months of their life in their shed, with a further 40% admitting to using it as an extension of their home.

Celebrity sheddie Vic Reeves said: "I have long been a lover of the trusty garden shed and have five in my garden which I often take some time out to escape to for an hour or two. When I was asked to design my very own inspirational shed, I jumped at the chance. My design is taken from my favourite museum and I just hope it can help others to be inspired too!"

The celebrity sheds took two months to create working with a team of artists, carpenters and stylists. Locations were then carefully picked as places of natural beauty, with each shed then transported across Britain.

Cuprinol marketing manager Kathryn Ledson said: "Sheds are becoming more and more popular as places where people can get away from the world for some 'me time'. By getting our celebrities onboard, we wanted to create customised sheds using our gorgeous Cuprinol shades that inspire Brits to think more creatively about their outdoor spaces."

Christian O'Connell's 80s shed is on display at Yorkshire Sculpture Park, while author Alex Johnson's office shed is located in Verulamium Park, St Albans. Joanne Harris' sky shed can be found on the Lleyn Peninsula in Wales and Vic Reeve's museum shed is on display in Northmberland. The King's Head pub shed designed by Sarah Beeny is in Rufford Park, Nottingham.

Shed of the Year 2012 is now open for entries until May 20. Winners will be announced during National Shed Week in July.