Printed from the website DIYWeek.net - providing DIY news, views and commercial data tailored to the needs of professionals in the DIY industry
Source: DIY Week.net - http://www.diyweek.net/
Garden products supplier thrilled to win Best Stand Award for its creative exhibit and 'real garden setting' at this year's Garden Press Event.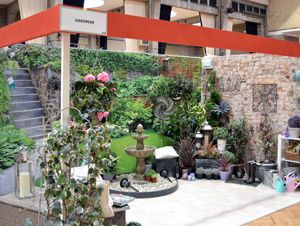 Gardman aimed to create the feel of a real garden on its stand, using photographic backdrops and clever product arrangement to showcase its ranges to full effect. The stand even included a working water feature.

Marketing manager Sarah Downing said of the winning stand: "We wanted to highlight our garden living range, so we designed a lifestyle garden where we could display our new products to their best effect - including one of our new waterfalls which was the perfect centrepiece. It was hard work putting it together in the short time available, but it was worth it!'

The Garden Media Guild and organisers of the Garden Press Event said: "The Gardman stand was the winner because it was inviting and creative in showing how its range of garden living products sat in a real garden setting. We particularly liked the use of the backdrop which made you feel like you were actually there relaxing in a garden."

The Garden Pres Event took place at the Royal Horticultural Halls in London on February 2 and was attended by more than 230 journalists from a wide range of garden media. Other big names on show included Bosch, Homebase, Fiskars, Haxnicks, Sankey, Squire's and Tenax.