Printed from the website DIYWeek.net - providing DIY news, views and commercial data tailored to the needs of professionals in the DIY industry
Source: DIY Week.net - http://www.diyweek.net/
Members of the Garden Centre Association (GCA) are celebrating this week after many picked up prestigious awards at the organisation's annual conference.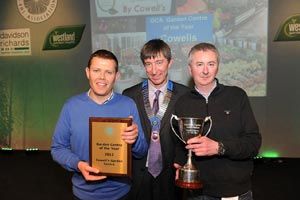 GCA chairman Peter Burks with Martin Cowell and Darren Woodmass from Cowells Garden Centre


Staff members from Cowells and Barton Grange, Preston, will have special cause for celebration after picking up the Garden Centre of the Year awards in the under £4millon and over £4m categories, respectively.

GCA chairman Peter Burks said: "We would like to congratulate both garden centres for their success."

Also winning big was Goulding's in Clyde Valley, which scooped up the Dick Allen Award, while Van Hage in Great Amwell was awarded the Barton Grange trophy. The GIMA excellence in Garden Product Retailing Award went to Bents Garden & Home, while Barton Grange, Preston, continued its winning streak with the Best People Award.

"The awards help to recognise excellence in the industry and are reflective of all the garden centres' hard work and commitment," added Mr Burks. "So well done to all the winners and runners up."

Cowells won the Ruxley Rose award in the under £4m category, while the Brock branch of Barton Grange won it in the £4m plus. The Outdoor Living award was presented to Squires Garden Centre in Hersham for the less than £4m turnover category and to Bents Garden & Home in the £4m plus.

Sherborne-based Castle Gardens and Preston's Barton Grange centre were both acknowledged for winning the Christmas display competition.

The annual conference also featured several special guest speakers. These included entrepreneur Wayne Hemmingway MBE, author of the 'expert' gardening guides Dr David Hessayon and Michael Heppell, motivational speaker. Customer service guru Mario Dolcezza also took to the stage, as well as principal consultant at Charteris Plc Andrew McMillan.

The Oglivy Group's head of mobile technologies Scott Seaborn also made a presentation and Geoff Harding, financial expert from The Bank of England was on hand to share his expertise with delegates.

The conference also featured an official handover from the GCA's past chairman Dennis Espley to Peter Burks, and chief executive status was passed from Gillie Westwood to Phil Slinger.

Mr Burks added: "I'd like to thank everyone who attended the conference for coming and I hope everyone found the information shared extremely useful."