Printed from the website DIYWeek.net - providing DIY news, views and commercial data tailored to the needs of professionals in the DIY industry
Source: DIY Week.net - http://www.diyweek.net/
Award was presented to Akzo independent business manager Nick Andrews in recognition of the paint firm's service to Home Hardware's distribution business at Pottington and Bedford.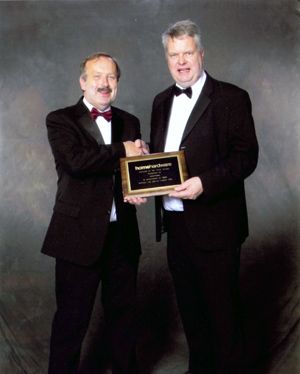 L-R: Home Hardware chairman David Adams and Akzo Nobelís Nick Andrews


The accolade, which takes into consideration factors such as overall supplier performance, speed and accuracy of delivery, stock availability and field support, has previously been presented to Blackfriars, Barrettine, Basic Hardware, Horwoods, Addis, STV and Rentokil.

Home Hardware md Martin Elliott commented: "I am delighted that AkzoNobel has won the award. During the past three years our turnover with AkzoNobel has increased by over 41% during a time when the DIY market has been very static. This can be partly attributed to their on-going brand advertising and new product developments. This has helped achieve significant incremental growth for both Home Hardware and our retail members across the Cuprinol, Dulux, Hammerite, International and Polycell brands. They have supported us with some excellent consumer promotions, which have achieved significant increases in business. AkzoNobel has recently become our largest warehouse supplier."

Akzo Nobel independent business manager Nick Andrews said: "It was a great honour for Akzo Nobel to receive the Home Hardware Supplier of the Year award at the recent convention, particularly in the respect that we are amongst an extremely select group to have achieved this accolade. We believe that as a supplier, getting closer to our customers and really absorbing what they are telling us about the needs of their customers is the key for the success of the industry. It's great to know that we have been listening and responding in the right way".