Printed from the website DIYWeek.net - providing DIY news, views and commercial data tailored to the needs of professionals in the DIY industry
Source: DIY Week.net - http://www.diyweek.net/
Garden centre chain Dobbies has reported an 8% increase in sales for its full year, boosted by new store openings.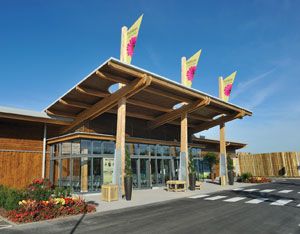 Dobbies Lisburn opened in September 2010


Total sales for the 52 weeks to February 28, 2011, were £112m against sales of £103m for the same period last year. This increase was helped by the impact of stores opened both last year and during the period under review, said the company.

Dobbies opened a new Garden Centre World in Shepton Mallet in June 2009, and also opened outlets in Aberdeen and Lisburn in 2010, plus Braehead in February this year.

Excluding these new stores, like-for-like sales decreased by 0.8% in the period after a difficult winter trading period. Gross margin edged up to 51.5% from 50.9% the year before.

Gross profit was £58m, up from £52.6m the year before, while profit before tax was £9.9m, increasing from £9.7m in the year to February 2010.

Dobbies opened in Ashford, Kent, in March, and has new stores planned in Carlisle and Liverpool, with a centre in Peterborough opening this month.