Printed from the website DIYWeek.net - providing DIY news, views and commercial data tailored to the needs of professionals in the DIY industry
Source: DIY Week.net - http://www.diyweek.net/
Lewis's Home Retail Ltd agrees to buy TJ Hughes name, website and assets of four stores for an undisclosed sum.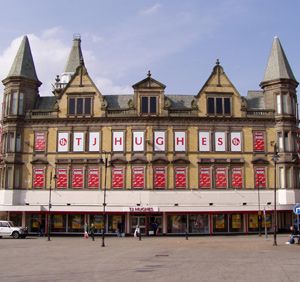 TJ Hughes' flagship Liverpool store on London Road is included in the deal


Liverpool retailer Lewis's has entered into an agreement with administrators Ernst & Young to buy collapsed discount department store TJ Hughes and its four flagship stores in Eastbourne, Glasgow, Sheffield and London Road, Liverpool. Under the terms of the acquisition, Lewis's will also take on the company's website www.tjhughes.co.uk.

Upon completion of the sale, employees in the four stores will transfer to Lewis's Home Retail Ltd. The retail firm is associated with wholesaler Benross Marketing, which distributes household goods and tools.

Benross Group managing director Anil Juneja said of the deal: "TJ Hughes is an extremely well known and much-loved brand and we're thrilled to be bringing the retailer back to life. The stores have a proud history, especially in Liverpool, and our aim is to do both the employees and customers, the justice they deserve."

Ernst & Young joint administrator Tom Jack said: "We are delighted to have exchanged contracts on this deal, which saves 442 jobs and continues the TJ Hughes legacy in Liverpool, as well as in other locations across the UK."

Meanwhile, administrators have said they continue to seek a sale of the remaining business and assets as a going concern, whilst continuing to trade stock through the whole of the group's 57-strong store portfolio.

TJ Hughes went in to administration on June 30, putting 4,000 jobs at risk. In July it was announced that GA Europe, a subsidiary of the Great American Group, had acquired Endless' secured debt due from TJ Hughes and would work with administrators to liquidate stock from the retail chain's stores.

July 25 saw the closure of the firm's Liverpool warehouse distribution centre, with the majority of workers made redundant with immediate effect.