Printed from the website DIYWeek.net - providing DIY news, views and commercial data tailored to the needs of professionals in the DIY industry
Source: DIY Week.net - http://www.diyweek.net/
Sales of DIY and garden products saw an uplift in April, helped by warm weather and Easter promotions, while homewares struggled as mindsets turned away from indoor products.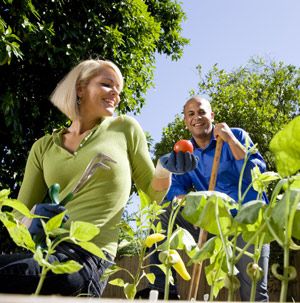 The warm weather saw peoples' mindset turn to outdoors, with gardening and GYO sales up in April


UK retail sales were up 5.2% on a like-for-like basis compared with April 2010, when sales fell 2.3%, according to the latest results from the BRC KPMG sales index. The figures have been helped this year by the fact that the whole of Easter was included in the April trading period, resulting in a total sales increase of 6.9% against a 0.2% drop last year.

The warmer weather benefited the DIY and gardening sector, while Easter promotions attracted shoppers and boosted sales of plants and cut flowers. Grow your own was also a popular category, leading to an increase in the sales of vegetable seeds, supplies and propagation equipment. Sales of garden power tools, lawnmowers and irrigation equipment were mixed, as was indoor DIY and décor, with consumers preferring to be outdoors over the period.

Homewares suffered a similar problem, with sales of home accessories and textiles well below their year-earlier levels, said the BRC, as mindsets turned away from indoor products. Outdoor dining and leisure products saw a boost from the warm weather but, in other home categories, customers delayed discretionary purchases and concentrated on core essentials. As a result, practical and replacement items seemed to take priority over decorative extras, unless promotions and discounts justified the purchases, said the BRC.

Meanwhile, many department stores had a fairly slow month, with the Bank Holidays and sunny weather resulting in a drop in footfall. Weak consumer confidence also remained a problem, although mid-season sales and promotions managed to attract some shoppers who were out looking for a good deal. Indoor products were impacted by the warmer weather, while cautious shoppers continued to put off larger purchases.

KPMG head of retail Helen Dickinson said: "As expected, the combination of a late Easter, dry and sunny weather, and the Royal Wedding feel good factor, has provided a very welcome respite in a challenging retail trading environment. Most sectors showed a significant uplift on the prior year and on recent months."

However, Ms Dickinson warns that the three-month average is still showing a downward trend and that many retailers are still watchful of the year ahead.

"The question now is whether this is indicative of a corner having been turned from the longer term downward trend in demand. Given the three-month average is still heading in a downward direction with 1.8% total and 0.1% sales growth for February to April compared to 2.7% total and 0.8% for the 3 months to January, this is unlikely to be case. Hence, the majority of retailers remain cautious about the outlook for the remainder of the year."