Printed from the website DIYWeek.net - providing DIY news, views and commercial data tailored to the needs of professionals in the DIY industry
Source: DIY Week.net - http://www.diyweek.net/
Tesco-owned garden centre chain gave away 25,000 tree seedlings to its customers across the UK in 2010 in a bid to encourage homegrown Christmas trees in the future.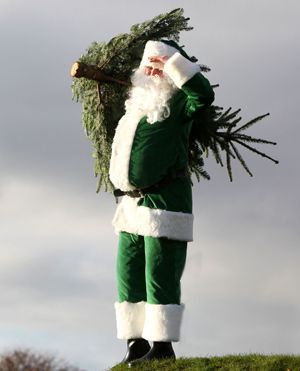 Dobbies is using its very own 'green Santa' to spread its environmentally-friendly message


All customers who purchased a real tree in store or online at dobbies.com received a free Norway Spruce seedling, which they could then plant in their garden to produce a homegrown Christmas tree.

According to the gardening chain, the seedling will take around three years to grow to a height of between three and four foot.

Dobbies head of horticulture Neil Fishlock said: "It's fantastic that 25,000 customers have become more eco-conscious and helped the environment by not only purchasing a real Christmas tree but by planting a new one in their own garden. Our customers have told us they want to do their bit to help the planet but we're really astounded by how many people have taken us up on the free seedling tree."

The chain even used its own 'green santa' to spread the message, including encouraging people to recycle their Christmas trees by offering drop-off points at its centres. The UK's biggest Christmas tree - a 75ft high UK-grown Sitka Spruce, which was on display at Dobbies Garden World in Edinburgh - is being recycled on January 6, with the mulch created after composting, to be given away to Dobbies customers.