Printed from the website DIYWeek.net - providing DIY news, views and commercial data tailored to the needs of professionals in the DIY industry
Source: DIY Week.net - http://www.diyweek.net/
Garden centre chain welcomes today's decision by local councillors to grant permission for a new eco-friendly garden centre in Dalston, Carlisle, Cumbria.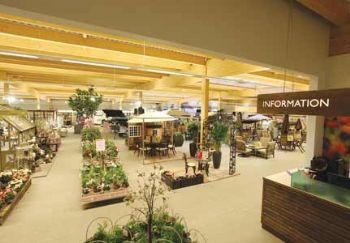 Dobbies Garden World, Carlisle will look very similar to its sister site in Aberdeen (pictured)


The 50,000 sq ft centre will be constructed from sustainably-sourced timber and other natural construction materials and will include a range of environmentally-friendly features including energy efficient lighting systems and extensive rainwater recycling.

The £8million development at Orton Grange, Dalston, will create 20 full and part-time job opportunities. These positions will be supported by formal in-house training programmes, so that 50% of staff at the centre will have specific horticultural knowledge and expertise.

Dobbies director of property Stuart Wright said: "We're delighted to be a step closer to opening a Dobbies Garden World in Carlisle. We plan to open our doors to customers in Carlisle in spring 2011 and we are looking forward to starting construction to start on site soon."

Wright continued: "We want to thank the individuals involved in our Carlisle planning application which will allow us to bring a new generation of garden centre to customers in the Cumbria area. We will be investing some £8m in the project, which will create 120 new jobs for the community, all of which in turn will have a significant affect on the local economy for many years to come."

Dobbies Garden World, Carlisle will offer more than 10,000 plants, shrubs and trees and include extensive outdoor areas, and a specialist aquatics department.

The centre will also house a farm foodhall offering locally-grown produce from Cumbria, as well as a restaurant, with freshly-prepared meals and home baking.