Printed from the website DIYWeek.net - providing DIY news, views and commercial data tailored to the needs of professionals in the DIY industry
Source: DIY Week.net - http://www.diyweek.net/
Visitor figures see a boost in February with nearly 99,000 page views.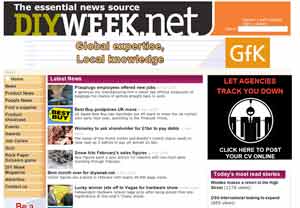 Diyweek.net has been established as the business website for 'as-it-happens' news for quite some time, but February proved it categorically, with the best month ever for visitor figures.

The month to February 28 saw 45,135 visits to the site from 30,301 unique vistors, who between them generated almost 99,000 page views.

Unsurprisingly news and product news feature top of the sections that are most read, but more than 900 of you were check the jobs section to see what vacancies are out there at the moment.