Printed from the website DIYWeek.net - providing DIY news, views and commercial data tailored to the needs of professionals in the DIY industry
Source: DIY Week.net - http://www.diyweek.net/
Peter Moule secures UK retailer and distribution deals; interest from overseas suppliers.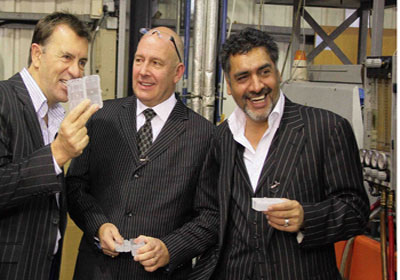 All smiles: Dragon's Den investors Duncan Bannatyne and James Caan flank Peter Moule.


Chocbox founder Peter Moule has made his first million – just three months after appearing on the BBC television show Dragons Den.

The businessman achieved the remarkable feat without spending a penny of the £150,000 investment he received from investors James Caan and Duncan Bannatyne after he impressed them with his polished pitch for the plastic box in December.

Mr Moule, 53, has since landed deals with diy retailers and has enquiries from as far afield as South Africa, New Zealand, Australia, Malaysia and America.

Mr Moule said the Dragons Den experience has been 'life changing' as he is now a source of inspiration for other entrepreneurs.

He said: ''I have had inventors bringing their products to me and we have already signed up two exceptional inventions, with the potential for these to be bigger than the Chocbox."

Recognition

And it appears the businessman from Goff's Oaks in Hertfordshire cannot walk the streets without someone calling out his name.

"I have been recognised every week since the programme – even on holiday in Mauritius and at an exhibition in Dublin," he said.

Chocbox is a simple plastic housing that protects cable connections, eliminating the need for untidy and potentially-dangerous electrical tape.

Mr Moule invented it several years ago when new regulations came into force restricting the use of electrical tape on some connections, and was initially selling it to electrical distributors through his company Electro Expo Ltd.

The one pound gadget is expected to sell five million units per year in 152 countries during the five-year deal – totalling £25million in sales.

And Mr Moule has signed a deal with importer and distributor Get plc, which has exclusive international distribution rights to the Chocbox in the 152 countries it supplies.

The deal is based on an estimate of five millions sales a year, but Mr Moule believes annual sales of 100 million are possible.

''In the UK alone, there are 15 million connector strips sold every year, and each of those could use four Chocboxes, so we're talking 60 million units annually in this country alone.'' he said.

Mr Moule also proved to be something of a dragon himself – he negotiated a 'ratchet deal' with Mssrs Caan and Bannatyne, which means he will get six per cent of his business back from them if they make £1million profit in any of the first three years.