News
Published on 24 - February - 2014
Cherry Lane acquires Lowestoft garden centre
QD Group has expanded its portfolio of Cherry Lane Garden Centres with the acquisition of Early Dawn Nurseries near Lowestoft in Suffolk.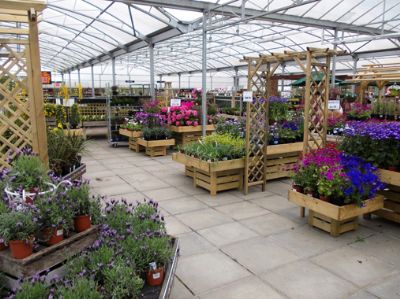 The plant area at Cherry Lane Beverley
Early Dawn has been trading since the 1960s and today it offers a large range of trees, shrubs, perennials and seasonal bedding alongside garden furniture, pet care, gifts and leisure items. The centre's 12 members of staff will keep their jobs and the business will continue to trade as Early Dawn Nurseries until a re-launch at Easter this year following a major redevelopment programme which will include a new family restaurant.
Value retailer QD's commercial holdings ceo, Nick Rubins, said: "Early Dawn is a fabulous looking site with an established customer base. We are planning to expand the current offer and make it easier for our customers to shop the full range of Cherry Lane products.
"Early Dawn has a great reputation for on site, own-grown plants and we look forward to expanding this with continued success over the coming seasons. This site complements our existing portfolio and is an exciting first acquisition of 2014 for the group.
"Our strategy is to develop our garden centre business both organically and through acquisition, and we always welcome approaches from successful businesses looking to exit the market," he added.
Cherry Lane Garden Centres also trade at Long Melford and Pulham Market in Suffolk, as well as in Norfolk, Essex, Nottinghamshire, Fritton, Northamptonshire, Yorkshire and Derbyshire.
This follows
the departure of QD Group md, Justin Farrington Smith
, which was announced at the end of January.
Comments
---
4/3/2016 4:33:00 PM
plantation cafe
By Sian Charlton
What a ripoff. At one time the cream tea for two was under 5.00 then it went up,to 5.50 but the price remained the same on the menu board. Went to day and it is now 7.95 for two. What possible justification there is for a price increase in the region of 40% I don't know. As pensioners it was a treat which could indulge in fortnightly, now it willhave otbe monthly or even six weekly, or possible not bother to go at all
---
1/30/2015 8:58:00 PM
car park.
By J. Wicks.
I whole heartedly agree re-change in car park. as other people have already said-it does cause congestion on driveway when people are pushing their purchases to their vehicles!We are senior citizens & cannot stoop to get under new barriers.I also think previous tills were more sensible--for store lay out.I live in Pakefield.I always find staff very helpful.I hasten to add.
---
11/17/2014 12:47:00 PM
Plantation Cafe at Cherry Lane
By Mrs Freeman
Well, the garden centre is fabulous, but if you want afternoon tea, don't wait too long as the kitchen closes at 2:30 and they cannot do afternoon tea. Strange to say the least, what time do you expect to have afternoon tea.
---
7/26/2014 7:54:00 AM
Getting to Early Dawn is Impossable
By Mrs Yvonne Reeves
I tried to get to early dawn on Thursday and had to turn back when i asked a man Doing his garden how much further is it to Early Dawn.
He said it was another MILE and it was Dangerous when I got a Little Futher up around Corner as there was NO PATHWAY,I do NOT Drive nor is there a Bus Route to it? I wanted to Buy Plants for my New Patio and Pot Feet.
It Seems that LOWESTOFT is Well Behind and is in the 18th Century Still. Can I Order online? and get Free Delivery?I am b the way a 77yr old Lady waiting to have another Complete Knee replacement on my Left Knee. NOTHING is EASY is It?I Live in Carlton Colville NR33 8UZ
---
4/21/2014 4:35:00 PM
Tills at Early Dawn Lowestoft
By Chris Mace
I have been shopping at early dawn since the early 80s and i am disappointed at the way the tills are now set out, with 4 in a straight line. This clogs up the exit to actually get out of the shop. The old system was much better as you had 3 tills but access was much much better. Who thought that one up!!!!!!!! Also the car park is a disaster! If you are parked at the back of the car park, you cannot walk up the gravel anymore because of the barriers, this holds up people coming into the car park because people with trolleys are using the road to get to their cars. Dear oh dear! Someone needs to go back to the drawing board!!!
---
DIYWeek.net does not edit comments which are submitted directly by our users to express their own views. Please report abuse of our comment system here.
Back to main news page

© Datateam Business Media Limited 2014. DIY Week.net news articles may be copied or forwarded for individual use only. No other reproduction or distribution is permitted without prior written consent.