News
Published on 13 - December - 2013
B&Q and Morrisons announce Sunderland store deal
B&Q and Morrisons have announced that they have made a deal to convert the B&Q Warehouse store in Deptford, Sunderland to include a new Fresh Format Morrisons supermarket.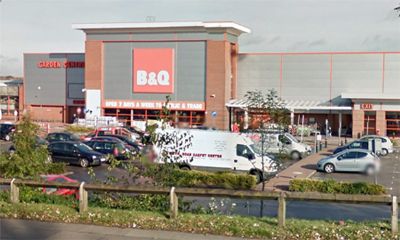 B&Q's Sunderland Warehouse store is set to be converted
The two companies have exchanged contracts that will see the DIY giant's existing unit converted to include a new format B&Q store and the Morrisons foodstore. The proposed changes will create in excess of 300 local Morrisons jobs.
B&Q said that it has informed its store employees of its intention to reduce the size of its operation, as the new store will have a gross area of approximately 45,000sq ft together with new 30,000sq ft garden centre. The retailer has said it is supportive of the planning application by Morrisons and the jobs that it will create and the store will remain open throughout the conversion works, ensuring continuity of service for its customers.
B&Q's acting divisional director for North, Steven Blair, commented: "We want to offer our Sunderland customers the best that we can in home improvement and the new size store will include new features and services that will not only inspire customers but will also help them to undertake their home improvement projects.
"This deal will enable us to continue to serve our Sunderland customers to the highest possible standard and we are committed to working with Morrisons to enhance the whole shopping experience on the site."
Morrisons is in talks with Sunderland City Council and is proposing a foodstore with a sales area of approximately 40,000sq ft that has been purposely designed for the area. Dates for a public consultation exhibition are due to be announced soon.
This news comes after several announcements this year by B&Q and Morrisons to share store space; the latest stores to merge have included
Ipswich
,
Preston Lancashire
, and
Wigan
.
Comments
---
7/19/2015 8:25:00 PM
Morrisons
By Jay
Is the Morrisons/B&Q venture still going ahead. No news on this since June 2014 and clearly no sign of starting the work.
---
1/15/2014 5:21:00 PM
locks changed
By chris humphrey
hi could u please tell me how much it would be to put new locks on my front door it hasent a lock on or contact no 07598831725
---
1/5/2014 8:28:00 PM
Redundancies already
By Ean
20 B&Q staff laid off this weekend
---
12/21/2013 11:35:00 PM
Bigger is not always better!
By Dave
B&Q is the 2nd biggest retail space owner behind Tesco's, the retail sales per square foot are not that of a food retailer. So it makes perfect sense to reduce its retail space and make money out of it!
---
12/19/2013 1:27:00 PM
Jay
By MB
Your right to say the larger format store in general is dead for the majority of the B&Q estate however on the whole they are at this point still in profit. The foresight is in 5 yrs time this won't be the case especially as the online web sales grow. So "right" sizing the stores gives the direct customer what they need, and enables B&Q to conserve costs, whilst overhauling the online proposition so as to keep market share over all.
---
12/15/2013 3:58:00 AM
reduced size
By jay
so the warehouse format is dead and gone as more and more are reduced in size this is a reflection of the business which is in steep decline if we exclude screwfix
b&q is not a great place to be smaller stores screwfix and cheaper competition from other business getting thier act together means its finished
---
DIYWeek.net does not edit comments which are submitted directly by our users to express their own views. Please report abuse of our comment system here.
Back to main news page

© Datateam Business Media Limited 2013. DIY Week.net news articles may be copied or forwarded for individual use only. No other reproduction or distribution is permitted without prior written consent.