News
Published on 11 - July - 2013
BREAKING NEWS: Glee to move halls
Major changes are taking place ahead of the 2014 Glee exhibition, including a migration to halls 17 - 20 at the NEC.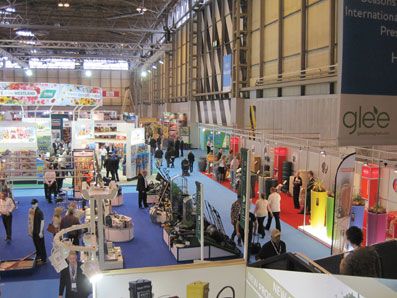 Next year's Glee will see a marked change from this year's event
Event organiser i2i has announced that next year will mark a 'new chapter' for the show with a view to improving the visitor experience and creating fresh exhibiting opportunities. The new location will bring the show closer to the Atrium and outdoor areas of the NEC, offering "the overall expansion of the show's floorplan through additional display and exhibiting opportunities," according to event manager Matthew Mein.
The move, according to Glee, will "enable every aspect of the show to benefit from a fresh start" with a hoped-for overall effect of a refreshed and revitalised format.
"All good retailers know that the best way to keep your store interesting for customers is to constantly revise the layout," said Mr Mein.
"We have applied the same approach to Glee. Whilst the show has undergone several enhancements in recent years, we still felt that the overall effect has been, to a point, predictable. In fact Glee is far from predictable. It is full of hundreds upon hundreds of companies, revealing thousands of new product launches every year. Now this revised layout and location within the NEC will enable visitors to discover more than ever before."
As part of the new layout, Glee will benefit from a greater exhibitor 'frontage' with more visitor access points. Mr Mein confirmed: "Halls 17 - 20 will give Glee exhibitors much more flexibility on their stand location. With multiple entrances, there will be more opportunity to capture visitor's attention as they approach the show.
"A new location will also mean that exhibitors can effectively start their own 'Glee next chapter'. This may mean completely redesigning their stand, or simply revising how they plan and promote their presence at the show. The possibilities are endless."
He continued: "The move to new halls also allows the overall layout and content of the show to be refreshed, as well as providing an unrivalled opportunity to add additional new content to Glee's already strong portfolio of features and educational content.
"The other particular noteworthy benefit of Glee's new-for-2014 location will be the Atrium and outdoor areas that are in close proximity. We already have some great ideas regarding how these areas could be used, and we are excited to discuss them with the industry" added Mr Mein.
GIMA, one of Glee's partner trade associations, has voiced support for the changed. Director Neil Gow said: "GIMA continues to work closely with the i2i team as we understand just how vital the Glee exhibition is to the garden retail industry.
"It is the key event of the year for the biggest majority of our members to showcase their products and services to the whole industry. The NEC is the only place a show of this size and stature can sensibly be held in the UK. The team has been working towards this hall move for many months now and it will bring a very exciting new feel to the show."
Comments
---
7/12/2013 11:56:00 AM
GLEE timing
By Richard Gilbert
Why is it that GLEE and the Autumn Fair are not on at the same time? These days there is a lot more crossover of visitors and possible exhibitors and for many, it is not practical to attend both shows.
---
7/12/2013 11:20:00 AM
Glee
By Rob Adams
I have an idea, all the Glee exhibitors get together and build their own show hall!! it would pay for itself quite quickly.
---
DIYWeek.net does not edit comments which are submitted directly by our users to express their own views. Please report abuse of our comment system here.
Back to main news page

© Datateam Business Media Limited 2013. DIY Week.net news articles may be copied or forwarded for individual use only. No other reproduction or distribution is permitted without prior written consent.