News
Published on 27 - February - 2013
New Baileys DIY store born from ashes of old
An overnight transformation saw the Rockfield DIY store in Abergavenny close its doors for the last time one night in December 2012 - only to open as the brand new Baileys DIY the very next day.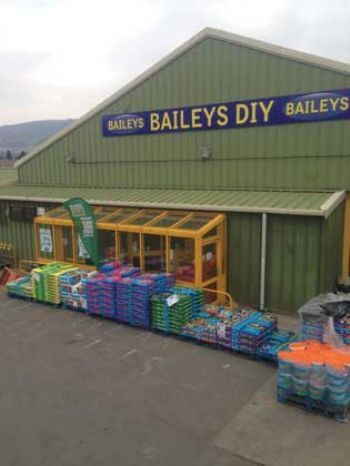 When local BP garage-owner Ian Bailey heard that his neighbouring store, Rockfield DIY, was up for sale, he immediately made enquiries. Rockfield, at the time, owned both this store and a concession site in a shopping centre in Ross, which is also now a Baileys DIY. It had also previously owned a third store in Hereford, but this had closed following a compulsory purchase order earlier last year.
Ten out of 12 existing staff members at the Abergavenny store chose to stay on with the new 8,000 sq ft Baileys DIY store, one of them long-standing general manager PJ Godsell. "I had been with Rockfield for 24 years," he told DIY Week, "so I was really glad the decision had been made to keep the business as a DIY store.
"Ian Bailey had the advantage of knowing the business and staff really well and he jumped at the chance of a new business venture."
Since re-opening less than 24 hours after Rockfield closed its doors, business has been going well at the all-new Baileys. "The weather has not been kind to us, we've had both snow and rain to contend with," revealed Mr Godsell, "but we've taken the store in a different direction and the results so far have been very positive."
While Rockfield was known for its variety of DIY stock, Baileys has invested more in trade ranges, recognising the increasing number of trade customers in store. "We felt this was an important market to tap into," added Mr Godsell, "but we have still remained true to our DIY roots and stock a wide variety."
Another new addition has been animal food and care items, varying from hay bales and horse bedding to dog and cat food. "It's a very rural, farming community, so these lines have really taken off well," said Mr Godsell.
Another change has been a significant increase in product lines, climbing from around 8,500 up to approximately 11,500. "It is really important to us that the customer gets what they ask for as quickly as possible," said Mr Godsell.
Looking ahead, the plans are to consolidate the business as it is, and hope for some decent weather to kickstart garden and outdoor living ranges, on which the store is currently stocking up. Plans have also just been drawn up for an extension to the store, and Mr Godsell hopes to see another one or two Baileys DIY stores open over the next few years.
E-commerce is another goal on the horizon, one which the business is "actively looking at" according to Mr Godsell, who assured it was "definitely part of our future plans."
For the present, staff have been overwhelmed by the positive reactionof locals to the store takeover. Mr Godsell said: "I have been really surprised by how many people have been in to shake Ian's hand and say how glad they are that the store has stayed true to its roots."
Comments
---
6/2/2015 10:57:00 PM
Poor customer service experience
By Alum Davies
Been a regular customer here for many years (including during its Rockfield incarnation) but very displeased and disappointed by staff competence initially, then by attitude encountered when having the temerity to complain.
Incorrect stock pricing problems seem to be attributable to issues arising from Ross store but surely this matter should be resolved by internal investigation and corrective actions rather than making customers suffer? When such matters arise (as they inevitably will on occasion) an apology should immediately be forthcoming rather than than the frankly bullying and abusive reaction encountered.
Lack of competition locally seems to be leading to distinctly lower staff standards.
---
3/20/2014 3:22:00 AM
compost
By Mr barry
Two years running some of your bags of compost is full of mold this may have ill affects if used for seed or seedlings. bringing open bags back is not an option, i will just think twice about buying the same in the future .
---
11/21/2013 11:59:00 AM
sadness
By Dawn Vandervelden
I,m so sorry that Rockfields came to an end but am very glad the shop and staff were able to carry on. I truly LOVED the shop. It always had just what I needed and more! The staff were second to none for helpfulness and cheerfulness. I live in Dorset now and will always have good DIY memories of Rockfields. Good luck everyone and thankyou.XX
---
4/11/2013 12:11:00 PM
compost
By Mr Willams
Baileys you must get your compost under cover,when this gets wet as the 3 bags Ijust purchased it is very heavy and could be toxic to small plants and seedlings.
---
4/7/2013 11:06:00 AM
Ross on Wye
By Mr G ANDREWS
Please can we have a bigger outlet in Ross on Wye
---
DIYWeek.net does not edit comments which are submitted directly by our users to express their own views. Please report abuse of our comment system here.
Back to main news page

© Datateam Business Media Limited 2013. DIY Week.net news articles may be copied or forwarded for individual use only. No other reproduction or distribution is permitted without prior written consent.