Product News
Published on 1 - November - 2012
Introducing Dragons-endorsed Clever Closet
Fresh from its triumph on Dragons' Den in Ireland, Smart Storage is launching Clever Closet, a simple understairs storage solution, in the UK.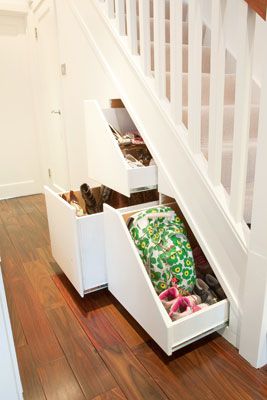 Created by husband and wife engineers Paul and Clodagh Jacob, the modular-designed units provide "excellent storage for shoes, school bags, sports kit, household appliances and much more." They can also be tailored for specific purposes such as golf clubs, wine racks and even the vacuum cleaner.
Designed to fit under the main stairwell, or alternatively in attic space, the unit consists of slide-out drawers which blend into the wall, leaving no drawer-handles obstructing the hallway or room. Taking just a few hours to install by DIY experts or professional fitters, the Clever Closet is primed ready for painting to match the home colour scheme.
The most popular units, according to Smart Storage, will fit into a space from 110cm in length, with an RRP of £495 including fitting.
For more information contact:
Clever Closet by Smart Storage
Back to main news page