News
Published on 1 - November - 2012
Homebase to close 40 stores over next five years
Following its half-yearly results, in which Homebase saw a like-for-like sales drop of 6.2%, Home Retail Group has announced it will be closing up to five stores before the end of the current financial year, and has no plans to open any new ones.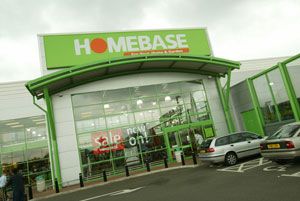 Homebase's store numbers could drop to below 300 by 2020
The retailer has 65 store leases coming up for renewal over the next five years, and says it is planning to close all but 25 of them. This will bring its store numbers to 300. The decision to halt expansion has come from bosses at HRG choosing to focus more on multi-channel development.
Internet sales at the retailer have grown by a quarter year on year and now account for almost 5% of Homebase's total revenue. Its Reserve and Collect sales grew 31% in the 26 weeks to September 1, and now comprise 1.5% of total sales, while website visits are up 20%.
Following the opening of the new Aylesford store proposition, Homebase is continuing with its concession developments, which will now include Laura Ashley and Habitat. The retailer has also continued its programme of garden centre refits to incorporate "inspirational garden displays" - eleven of these refits were completed during the half year, bringing the total to 33.
Despite its sales drop, HRG says Homebase has continued to grow share in the DIY shed market.
Comments
---
10/05/2013 16:59:00
My Store
By Kylie Cowling
Does Jake Howe Know when HOMEBASE Reading Calcot will close down to make way for the new IKEA Store to be built as i do shop there often and will have to go to the onein Kenavon Drive Reading
---
09/05/2013 23:52:00
another one bites the dust
By Jake Howe
....I have been criticised on here recently for previous postings.
I ahve heard today that Shrewsbury Homebase is going to close next month. If you know differenet please reply and tell me I am wrong and I will happy to take the posting off.
More store closure announcments shortly I am afraid
---
07/05/2013 22:23:00
By jodiie
Anyone know anything about the Eastbourne store?
---
07/05/2013 16:19:00
which stores to go this year
By michelle cavell
I go in my local Homebase store in Doncaster and find the products are well priced and always got what you want , Does anyone Know which stores are set to close this year ?.
---
19/04/2013 21:52:00
SOON
By Tara clark
I've just heard my local HOMEBASE in Reading will close November 30th This year such a shame as its the only DIY store in that area and the staff are friendly always
---
15/04/2013 08:17:00
redundant
By hue james
i wonder how much notice homebase will give staff before stores close down i expect the min as they prob dont want there staff to leave before hand
---
11/04/2013 17:56:00
known store closures
By john
Redditch & Worcester bath road will be closing imminently, could be a year or so but they are non profit stores up for lease renewal.
Don't ask me how I know, but I do let me put it that way.
---
08/04/2013 09:53:00
Closures
By RobinDasgupp
As you can see the list I published recently was correct. Its pretty easy really - Stores with leases up losing money and not fitting the Image will be shut.Many of these are tired and old and are out of the demographic.The total closures is forecast at 63 with some changing to Argos.
---
20/03/2013 10:24:00
Timber
By larla gush
I JUST WENT TO MY LOCAL HOMEBASE IN READING CALCOT ON MONDAY TO GET SOME PAINT AND THEY HAVE KNOCKED DOWN THE BUILDING NEXT TO IT TO BUILD THE CAR PARK FOR NEW IKEA STORE , WILL NOT BE LONG TILL THE HOMEBASE STORE WILL SHUT NOW I QUESS
---
15/03/2013 08:44:00
It used to be good
By I escaped
I worked for HB for 16 years , latterly as a Store Manager. I totally agree that when Sainsburys sold HB it was the begnning of the end. The acquisition of Texas was difficult inheriting many poor stores and staff along with some very good staff. The demographic was totaly different. Customer service now seems atrocious, big big mistake. I still have friends in HB in Senior Management , they would leave if they can find an attractive proposition. I think it'll struggle on in a much reduced form. Sadly B&Q is even worse, service is non existent.
---
10/03/2013 09:51:00
Mr Jake Howe
By Steve Parkin
Having read Mr Howes comments i find rather hard to beleive what he says is true about Homebase might close the store at Barnstaple after they have invested a huge ammount in the garden center and a brand new showroom? Has Mr howe an issue with the company i wonder ? In this time of hardship people being made redundant has he ANY feelings for the staff at these stores who migth see his comments
---
05/03/2013 21:17:00
silly
By rose wells
i think that kenny needs to read into this before putting load of hear say , my local store in Reading Calcot will go shortly i know the girl on the till is looking for other jobs. Shame
---
04/03/2013 21:04:00
Store closures
By Jake Howe
I wonder if Kenny still thinks I am talking rubbish now. This months board meeting confirmed 2 of the per mentioned closures. More on their way
---
01/03/2013 22:12:00
By the ghost
homebase is going strong and making significant pfrofit
---
25/02/2013 23:08:00
sales now on
By mrs Azahi
i've just read on the internet that Homebase are increasing their discounts in stores that are going to close , i think i will wait till the last 5 days before closing and get 90% off i think.
---
21/02/2013 23:25:00
who cares
By mr smith
im not a huge fan of Homebase , i brought garden products and paint in the past and have always paid more than say if i went elsewhere, i dont even use NECTAR CARD anymore, closing stores dont bother me really.
---
19/02/2013 21:40:00
fill in
By toni clarke
i heard my local store will close soon , supervisors and staff have started to look for alternative employment and some have found other jobs even the Manager , but they have not taken new staff they have filled there positions with staff from other stores so it cant be HEAR SAY.
---
18/02/2013 22:06:00
too much hear say going on here!!!
By kenny james
nice to read all the hear say comments and scare mongering by people who havent got a clue!, to put a list of stores that are suppose to be closing without concrete evidence should be backed up with proper evidence.
---
17/02/2013 10:40:00
going
By jo r
i worked in a homebase shop and i think its so sad that the internet is taking over and soon there will be NO shops
---
11/02/2013 17:11:00
homebase closing
By mr bang
i ve heard that seven shops will close this year and a further nine next year from a colleague in my local store , the country will not have many stores left, i espect B & Q will gain sales out of it.
---
10/02/2013 23:18:00
4 More stores to go?
By Jake Howe
I heard today (from a property developer) that Homebase is "actively looking" to get out of 4 South West sites ASAP either by off loading the lease or possibly just throwing in the towel. Bodmin, Taunton, Barnstaple and Honiton. I used to shop in the Barnstaple store as it had a cracking garden centre, really top notch with great quality plants and staff, the current management team seem not to be coping and last time I went in half the plants were dead, a real shame for the staff in these stores....and the plants
---
15/01/2013 23:40:00
HOMEBASE
By kate burns
i just read your article on homebase closing 40 stores and i think that this company does not want to end up like MFI, FOCUS DIY, COMET, and HMV maybe whever or not it will save it from the others is a matter of wait and see.
---
10/01/2013 21:27:00
Homebase
By Not Relevant
I worked for Homebase for 17 years until 2005 (Year of the Manager.......cull) When Sainsbury s some years earlier sadly sold them to Venture capitalists the writing was on the wall, a brilliant company destined to fail, it is with great sadness I read of the imminent demise of many of the stores I either ran or was in some way connected with. It is true that the options the HRG at this economically difficult time dictate that this may be the correct thing to do HOWEVER this could have been avoided much earlier when the decision men integrated Texas and more latterly some Focus stores many of which should never have been converted. Market share and dominance seemed more important than the likely value of the estate in say 10 years forth. Many fine Managers were lost and many ignorant senior ones kept, and look where they are now, perhaps they should have listened to the wise ones rather than dismiss them for what in hindsight was relevant advice. I rest my case and hope those affected can find suitable employment elsewhere
---
09/01/2013 18:03:00
Birmingham closures
By simon mont
My friend has worked for the business in excess of 15 years and she believes at least 3 stores are scheduled to close in Birmingham area in 2013 due to lease expiring
---
02/01/2013 11:36:00
whos first
By james barlow
does anyone know which stores are closing in 2013 is Reading Calcot Going Thanks.
---
02/01/2013 11:34:00
Stores closing
By diyman
Homebase needs to get back to simply trading the space in there stores better as Texas homecare did..Stop this Habitat ..expensive superior image..... with focus Diy gone there can be no excuses to not gaining market increase... otherwise directors board needs shake up and more new blood... they wouldnt except management not reacting in poor performing store ?
---
23/12/2012 17:32:00
here to late
By julie sutton
i just read in the paper that the HOMEBASE store in HEREFORD is to close down january 19 th 2013 and the staff are having meetings to see if ther will be any alternative employment for any of them with HRG.
---
23/12/2012 10:03:00
purley way
By el
Store is gone there. shame as i found the few staff there helpful.
---
20/12/2012 22:37:00
Closing Down
By Robin DasGupp
Reading C.
Blackheath.
Merton.
Taunton.
Tonbridge
Two in Ireland
Liverpool
Two in Birmingham
---
20/12/2012 14:46:00
no service
By samuel mans
i only ever go in HOMEBASE twice a year as i do find the staff a lot less friendly and helpful than B&Q ,B&M HOMESTORES, and WICKES maybe this is to do with staff training . i am not surprised at all that stores are closing really.
---
19/12/2012 16:56:00
gone gone
By craig whitely
i heard from a member of staff that the Reading Calcot store as already shut down this week , staff are in there to tidy up the loose ends. the lease runs out in 2013
---
19/12/2012 14:51:00
Redundant
By Rachel
I believe the lease is up in feb 2014,
Time to start looking else where now :(
---
19/12/2012 11:58:00
leases
By bob brown
when the lease expires in 2014 , most likely the store will close at the end of the tax year usually in march that year
---
19/12/2012 10:42:00
lost hope
By debbie scofield
my experience in HOMEBASE is that they do sell a lot of old tack which takes up a lot of space in your house but i find B & Q and WICKES are more your DIY STORES that improve your home.
---
19/12/2012 07:35:00
Disappointed
By Rachel
Tge store I wirk in will be closing in 2014 when the lease expires, I was told that all stores where the lease us set to expire in the next few years will be closed, turns out to be around 65 stores!
---
18/12/2012 22:36:00
black hole
By david black
i think HOMEBASE reason to close 40 stores within next 5 years is because they do not want to end up in a black hole like other retailers FOCUS DIY , MFI , COMET who's fate was liquidation. The sad thing will be for the worker's who will lose there jobs.
---
14/12/2012 17:39:00
Blackwater closing
By Chloe smith
Our local Homebase is being closed in Blackwater near Camberley, there is rumour that they are knocking down the building and replacing it with a Next
---
10/12/2012 12:17:00
WOW 'Really'
By mrs mangle
I do shop in HOMEBASE about 3 times a year mostly on 15% weekends as i do find them rather over pricon a lot of items against there rivals like B & Q or WICKES .I Think they are doing the right thing in to bring there stores down to 300 but it will be sad for the management and staff in the stores they are closing losing there jobs.
---
07/12/2012 21:37:00
TO CLOSE DOWN
By debbie
My Friend works in Homebase in the GARDEN CENTRE she been there 15 years and she does not think the store will be open much longer and have not been informed by the company only by what she has read on line and in a magazine. Terrible Really i think
---
07/12/2012 11:06:00
No Respect
By rupert conway
Homebase have got NO RESPECT for the workers who will lose their jobs . My local Homebase lease expires in 2013 and the staff are feathe worst, even thinking it will close by april No member of staff have been informed by Head Office yetnot even Management. Disgrace!.
---
07/12/2012 09:44:00
which ones
By pamala wilson
Anybody knows Which stores are to close and when. i do shop in Homebase and find my local shop empty mostly when i go in there thats all.
---
27/11/2012 20:21:00
Rude!
By Rachel
I work for the company and have been informed by my local paper that the store is closing and also now on the website.
I think it is a disgrace that the company don't feel the need to share such information with the staff.
Homebase you are a shambles!!!!
---
22/11/2012 17:35:00
Homebase
By Richard Pembroke
my local store calcot will close they will build a ikea in its placewhen there lease runs out in 2013
---
11/11/2012 22:25:00
Homebase to close 40 stores over next five years
By kenny james
jake howe, the home retail group which is owned by shareholders purchased homebase not argos!!, the announcement of 40 store closures will be mainly a high percentage of stores coming up to the end of there leases and not due to poor performances based on store turnover obviously this will be taking into consideration when leases of stores will be coming up for renewal also in this current struggling financial climate it is wise for any company to diverse there business for which homebase is trying its best to do to survive the difficult times ahead for which also every business in the uk is at the moment also finding difficult as sadly reported quite often lately many companies are going into receivership and going bust, it would obviously be a better long term business decision for homebase to unfortunately have to make the decision to close upto 40 stores and restructure its selling policy wether it be selling paint,timber,dvd's or even kitchen scales than to close the whole 340 stores.
---
08/11/2012 00:24:00
What a waste of Money
By Jake Howe
Argos invested millions to purchase Homebase and Millions more to add mezaline floors to most of the estate. Paul Loft and his team have done a terrible job with year on year sales declines despite competition closing (Focus, MFI etc). Homebase never fails to dissapoint nowadays with low stock levels throughouyt the store and a more than a confused offer....what do they sell now, paint, timber, dvd's, kitchen scales?
---
04/11/2012 19:23:00
charming
By summer johnson
Not very good even the staff haven't been told yet, but then with thats not a suprise with Home retail group!
---
02/11/2012 22:05:00
Homebase to close 40 stores over next five years
By Paul Wood
Every Business needs to move forward, however it is a great shame that the staff in the business have to find out by reading it here as there has been no internal announcment. This could have been handled very differently
---
01/11/2012 13:52:00
End of the sheds
By Billbo Baggins
Beware everyone who thinks closing down large stores will help the independent. Watch your backs as we saw with the food retailers when they run out of ways to make money from large stores they go back to the High Street. Look at the likes of Screwfix in Shepton Mallet this won't be the last of these. With logistics set up already to supply trade counters whats to stop them entering a High Street near you?
---
DIYWeek.net does not edit comments which are submitted directly by our users to express their own views. Please report abuse of our comment system here.
Back to main news page

© Datateam Business Media Limited 2012. DIY Week.net news articles may be copied or forwarded for individual use only. No other reproduction or distribution is permitted without prior written consent.