News
Published on 1 - November - 2012
Homebase to close 40 stores over next five years
Following its half-yearly results, in which Homebase saw a like-for-like sales drop of 6.2%, Home Retail Group has announced it will be closing up to five stores before the end of the current financial year, and has no plans to open any new ones.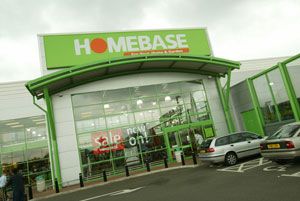 Homebase's store numbers could drop to below 300 by 2020
The retailer has 65 store leases coming up for renewal over the next five years, and says it is planning to close all but 25 of them. This will bring its store numbers to 300. The decision to halt expansion has come from bosses at HRG choosing to focus more on multi-channel development.
Internet sales at the retailer have grown by a quarter year on year and now account for almost 5% of Homebase's total revenue. Its Reserve and Collect sales grew 31% in the 26 weeks to September 1, and now comprise 1.5% of total sales, while website visits are up 20%.
Following the opening of the new Aylesford store proposition, Homebase is continuing with its concession developments, which will now include Laura Ashley and Habitat. The retailer has also continued its programme of garden centre refits to incorporate "inspirational garden displays" - eleven of these refits were completed during the half year, bringing the total to 33.
Despite its sales drop, HRG says Homebase has continued to grow share in the DIY shed market.
Comments
---
26/11/2013 21:07:00
stores
By Geoff small
Do anybody know whats happening about the Newbury store is cos everytime i go in there it never that busy and the staff seem fed up all the time. They dont seem to have the range and stock availability as some other stores
---
24/11/2013 15:40:00
closed
By Richard Haas
Homebase Reading calcot closed saturday 23rd november at 1 pm i was in there on the last day and all they had left was about 3 isles not enough to fill a small lorry. Sad for the staff who have done a great job there and will always be remembered by the customers who shop there
---
31/10/2013 11:58:00
By Anonymous
I worked at the homebase Bolton store until it closed a few weeks ago. All staff cared about that place and making it work. Homebase have lost a great team of loyal friendly staff it's a shame the big bosses dont care about there staff what a lovely Christmas present with a shockingly low redundancy payout
---
26/10/2013 09:31:00
agree with tom
By fut
Hi tom i agree with you homebase will disappear but not completely.i worked at bolton till it closed a week ago.they will close about 150 stores over the next few years and have several display stores set up through the country dealing with internet based orders as far as horwich is concerned they will not be closed
---
25/10/2013 20:07:00
By Anonymous
From the half year results: Homebase traded strongly through its peak trading period, recording its best half of like-for-like sales performance since acquisition in 2002, and has now achieved 18 consecutive quarters of market share growth in the shed sector.
~
As part of Homebase s ongoing management of the store portfolio, a further three stores were closed in the period. This level of store closures is consistent with its plans at the start of the year. Homebase expect to close a total of around 10 stores in the current financial year and will continue to examine the opportunity for store closures, relocations or downsizes as either leases expire or lease break clauses occur. Over the next five years, Homebase has around 70 store lease renewals or break clauses due.
---
22/10/2013 13:30:00
stores closing
By ghost
I work for one of the stores ,if ppl were to research a bit more they may have facts. homebase are actually closing stores with lease renewels as u may have heard its one if the ways of saving money last i heard homebase was still making a profit and are a good company to work for
---
17/10/2013 21:21:00
Horwich
By Tom
Are you guys sure? i've been told that bolton and horwich are to go from several people.
Both stores are always empty to be fair, high prices are the killer of any company, that coupled with bad higher up management who don't change with the times. won't be long before Homebase vanishes from the high street for good.
---
13/10/2013 18:10:00
Genuine Discounts
By Mike
Not surprised their closing a fair few branhces. Flickflack thinks they have genuine discounts. How can a company have 15% or 20% off along with additional offers like 60% off kitchens if the have genuine discounts. Something has to pay the bills wages etc and if they were genuine they could not offer those discounts. They survive by exploiting the consumer as well as their low paid staff. Theyve had a decent run but I think most consumers are getting wise to this outrageous marketing strategy of offering money off a fictional figure they make up
---
12/10/2013 17:54:00
Homebase Horwich is NOT closing
By anon y mous
The homebase in Bolton is closing not the Horwich store.
Sunday premiums were legacy payments and have not been offered on new contracts for at least 5 years, bank holiday payments have not been offered on new contracts for at least 12 months.
---
09/10/2013 15:33:00
After I lost my job...
By Chris Sammut
To all those effected. I understand well. Who is looking for what to do next, I might be able to help you guys. I started my own business thanks to a very great company. 07940418212, if interested. It s all over the UK and global round 150 countries. Good luck
---
07/10/2013 23:01:00
redundant staff member
By Anonymous
Staff treated like rubbish with these closures maybe they should make some of the big bosses redundant then they will know how it feels. Glad im leaving this company
---
06/10/2013 11:39:00
Homebase Horwich
By mark
Homebase in Bolton is closing. Not Homebase in Horwich
---
03/10/2013 18:57:00
Homebase Horwich to close
By Mike
Just heard that my local store in horwich bolton is to close, seems ironic as every company who has occupied that building has failed.
---
02/10/2013 18:13:00
Reading Calcot
By Lana Richards
I've phoned Homebase Reading Calcot for information on some ceramic tiles for my bathroom and i wanted blue ones he said they had some in stock so i asked how many have you got he said about a dozen so i asked him are you getting anymore he said they are not getting anymore stock in because they will be closing down November 30th
---
01/10/2013 21:08:00
value for money
By flickflack
all you people saying homebase is expensive ought to look a bit closer. they always have good reductions on loads of things at different times, and I think their discounts are genuine
---
29/09/2013 12:48:00
Liskeard Burnt down
By sam morone
After a big fire at the Homebase Liskeard I wonder ifthis is one more store they can add to the list of complete closures, with Argus within Mtrs what they could do is sell both, and the residents could have a decent superstore.
Shame about all the job losses, but Homebase prices were well over the top
---
18/09/2013 14:09:00
the rises and the falls at homebase
By jfu
I work at one of the homebase stores due to close this october, I have heard that the staff are to get a 2 percent pay rise wow an extra 12p per hour, but dont get excited, staff are going to loose the bank holiday and sunday premium pay! So for example if a member of staff works 6 hours on a bank holiday or sunday they loose 17-64p per day, so you either loose your job or lot of money.I will never step into another homebase store.
---
14/09/2013 22:37:00
More closures
By Jake Howe
Looks like the store in Camborne, Cornwall is on the closure list now and also Plymouth (the one in Peverell) is looking in a very sorry state and with leases up for renewal shortly will probably close. Not sure exact dates.
---
11/09/2013 22:29:00
amy comment
By jake
In response to amy's comment 1-8-13 you must be a customer because if you were a member of staff, like hundreds of us waiting for our p45's you would be very worried and of course we do sell the same as argos, after all we are owned by the same company(home retail group) just think before you engage your brain..
---
11/09/2013 21:42:00
closure
By unemployed
Well its official store in region 4(northwest) is to close and some staff have been notified by txt thats the homebase way.disgraceful
---
05/09/2013 19:43:00
Homebase closure
By Rachel
I work in Eastleigh store, Hampshire...
We've just been told today that we will be closing nov 23rd..
Sign of the times ....
---
05/09/2013 19:15:00
Store closures & Management changes
By Anon
I work in a South East Store in NW London -our lease is up in 3 yrs time, we have had surveyors round & will be torn down & replaced by housing. Have been told today that the Sales Manager & Service Manager jobs are being axed with one overall job replacing them both - it's disgraceful.
---
15/08/2013 14:49:00
liverpool
By Helen Shakeshaft
my son works for scs in aintree and they are being told that the homebase will be closing soon and that someone else will be moving in, such a shame as i like shopping there.
---
14/08/2013 12:40:00
closures
By david white
i am really shocked that they are closing so many stores as i always found them to be so useful and clear on finding what you are looking for , such a shame
---
12/08/2013 20:29:00
SOON
By H
Reading Calcot will close within the next 16 wks there lease runs out in November It has got very poor and all the best staff have left even the ones who have been there more than 10 years and they have never got what i want maybe they not getting the stock in so much and they are making do with the old stock, Plus they already knocked the other building near the store which has been empty for 15 yrs back in march to start building the ground work for the massive IKEA car park and they will build the store where HOMEBASE ,CARPET RIGHT and a BOWLING ALLEY are on. We have got another one in Reading but its on the other side of town. IKEA is the Future now down there.
---
11/08/2013 09:37:00
By N /a
I am also going through redundancy consultations as news of my store Cwmbran closes on 12th October. End of an era after many happy years working there. Very sad day then we leave:(((((
---
07/08/2013 13:25:00
Closures
By RobinDasgupp
As previously published the Stores on short leases and not making GP are to close.The communication channel though to staff is appalling.For example Reading Callcot will be demolished to make way for the New Ikea.The staff are not clear on when it will close although Ikea have plans in place !
Homebase have lost thier way and the offer is diluted and confusing.The staff feel unloved and a lot of smoke and mirrors exist giving the false illusion of a "customer facing" business.The customer service levels fall well short of what the business eludes to.The kitchen and bathroom offer is tired and the consumer is no longer falling for the invented "discounts" on offer.The original 10% days which years ago were successful have now turned into "15% off" weekends which erode profit and are so frequent they are expected.A sad demise of a once respected business.
---
06/08/2013 21:53:00
store closure
By jason
Homebase canley is closing down.the current management will not find it hard to get new jobs as deals have already been given to them.46 members of staff will lose there jobs.only 1 member of staff will remain as they are the managers favourite.
---
01/08/2013 16:35:00
I don't see the point in Homebase....
By Amy
Personally - I don't see the point in Homebase anymore. They are exactly the same as Argos (home and furniture wise) and too expensive with anything else. All of their plants are dead in the garden centre too! Even dead plants are expensive!
The worst thing is they don't display products correctly or even in the right place. Causing damages and low sales of certain products.
They aren't trying hard enough to win business. And quite frankly - they don't deserve it
---
29/07/2013 21:45:00
administration looming
By ricky
it looks to me that Homebase has had its day and other similar companys are biting its apple , i have notice that they are over priced on a lot of items and competition is heating up
---
28/07/2013 02:23:00
Found out something regarding leases
By Matt
I actually work for a homebase store in Region 4 (Northwest) obviously I'm not going to mention which one but I've found out that our lease is coming up in November this year, now as far as i know word coming from the store manager is that they are hoping that the landlord reduces the rent before they sign another lease, however this is becoming quite a worry now and they other day we had people in taking photos and measurements of all the building, apparently they where from head office but they didn't look like they where.
---
25/07/2013 09:08:00
Reading store
By bob brown
i've heard yesterday that Carpet Right next door to Homebase is closing Dec 13th 2013 so i guess Homebase will close around then to.
---
22/07/2013 23:50:00
Sites
By Jake Howe
Homebase owns the sites for less than half a dozen stores
Having spent a silly amount purchasing the company, and an even sillier amount putting in mezzanine floors, the home retail group have cut capital spend in homebase to a bare minimum in recent months.
A year ago he company was talking about how Maidstone was the new format store, now Battersea seems to be the new format !
Rumours are hat Battersea is showing sales growth following their refit, but nowhere near enough for this ornate to be successful nth verge 50k a week store out of London.
---
19/07/2013 21:55:00
Word of mouth
By The one
I work for homebase (can't say which one ) our store makes the weekly budget more often than not , I will add one thing though if homebase was struggling then why are HRG still throwing money investments at stores :) plus does anyone actually know how many homebase stores are owned or leased more like stores closing not being renewed lease wise
---
18/07/2013 18:21:00
3 more closures
By Jake Howe
3 more closures announced this week in Ireland. The Irish chain being put into the uk equivalent of administration.
The 12 remaining stores all have leases of at least a year remaining. Land lords being told now if they do not reduce the rents then the Homebase will close in that location.....some sites in the homebase estate in Ireland, especially those around Dublin, remain good sites for other retailers will show interest so its not looking good for the long time future of homebase Ireland.
---
17/07/2013 20:23:00
Credit
By Dave
Wanting credit from suppliers for items is the most stupid thing i have heard. If a store gets a product back from a customer it must go back to the supplier if thats the agreement. You can not re-sell it. Why would a company want credit then buy the item back in!!
---
15/07/2013 23:17:00
Faulty? returns
By Vendor Rep
When items are sent back for return, are they realy faulty?, or are the stores just wanting credit?
Items I pick up say faulty on the returns label but have clearly NOT been used!
You should see the amount of Lawn mowers coming back! I counted twelve from one HB, all the same make! And all suspiciously looking new.
WHAT IS GOING ON?
---
09/07/2013 23:04:00
Employee
By kayleigh
I work for one of the stores in the South East (can't say which one) but management are putting more and more pressure on staff to reach sales targets, which is virtually impossible some weeks as the store is hardly ever busy except when 15% off weekends are held. Have a horrible feeling it will be one of the stores to close, such a shame as all the staff are lovely, shame the big shots in the company don't see fit to tell staff in advance on whether their jobs are safe or not.
---
29/06/2013 04:42:00
B&Q Hastings
By Vendor rep
Aldi has acquired the B&Q site in Rye Road (Ore), Hastings. It is in the planning application stage to re-develop the site. This information is available from the local Hastings press.
---
29/06/2013 03:24:00
More closures on the way
By Steve
I work for one of the Homebase stores in the North West and I've been told by my manager that there's going to be very big cuts coming very soon, be it store closures or loss of service manager positions or more.
I know that Preston Queen Street and Liverpool Aintree are hanging in the balance as they are not hitting budgets.
The Southport store has been sold to Sainsburys which are still in talks about the land, all the staff are being made redundant afaik.
It's disgusting how they are treating staff by giving them minimal notice before closures, They are currently reviewing the loss making stores and have only just re-newed leases for another 12-18 months on some stores which kind of sets alarm bells ringing.
Everyone is correct, they are so behind the times they couldn't manage to bounce a ball let alone a company!, they are currently rolling out "prism" which is a internet based system where you can pay for things online and collect instore however the store does not see any money and this affects store budgets each week so kinda shoots themselves in the foot yet they still expect use to hit budget, they don't advertise enough so how can they expect customers to set foot in the door.
I do hope that if stores are closed down that they are either turned into Argos outlets with staff kept on or purchased by other companies who also keep the staff as in this climate it's very hard to find work.
---
20/06/2013 16:16:00
Administration
By Mrs Cranfield
I have read a lot of comments on here and it seems to me that Homehase has had its day and its time for a change They may go into administration or be sold to someone else HRG will wash its hands of it soon
---
18/06/2013 23:03:00
More closures
By Jake Howe
Southport
Maidstone
Rumours being that mor than 100 stores are now in severe sales decline (double digit on last year) after a truly dreadful sales performance
Went into a local homebase store today and in the first aisle was paint, CDs, hairbo sweats, dead house plants and light shades.......pretty sure the board of directors are panicking,
---
14/06/2013 00:14:00
Homebase Havant closing
By Vendor rep
I visited this store recently and a member of staff said the store will close on the 21st of June 2013. The site has been sold to a property developer.
---
30/05/2013 22:15:00
Closure
By Rachel
It's now been confirmed that eastleigh store will be closing. Ths is due to happen in feb 2014
---
29/05/2013 21:52:00
Jake Howe
By Sandra
I thinks its really helpful of you to share your knowledge of the store closures, have you heard of anymore yet to come?
---
10/05/2013 16:59:00
My Store
By Kylie Cowling
Does Jake Howe Know when HOMEBASE Reading Calcot will close down to make way for the new IKEA Store to be built as i do shop there often and will have to go to the onein Kenavon Drive Reading
---
09/05/2013 23:52:00
another one bites the dust
By Jake Howe
....I have been criticised on here recently for previous postings.
I ahve heard today that Shrewsbury Homebase is going to close next month. If you know differenet please reply and tell me I am wrong and I will happy to take the posting off.
More store closure announcments shortly I am afraid
---
07/05/2013 22:23:00
By jodiie
Anyone know anything about the Eastbourne store?
---
07/05/2013 16:19:00
which stores to go this year
By michelle cavell
I go in my local Homebase store in Doncaster and find the products are well priced and always got what you want , Does anyone Know which stores are set to close this year ?.
---
19/04/2013 21:52:00
SOON
By Tara clark
I've just heard my local HOMEBASE in Reading will close November 30th This year such a shame as its the only DIY store in that area and the staff are friendly always
---
15/04/2013 08:17:00
redundant
By hue james
i wonder how much notice homebase will give staff before stores close down i expect the min as they prob dont want there staff to leave before hand
---
11/04/2013 17:56:00
known store closures
By john
Redditch & Worcester bath road will be closing imminently, could be a year or so but they are non profit stores up for lease renewal.
Don't ask me how I know, but I do let me put it that way.
---
08/04/2013 09:53:00
Closures
By RobinDasgupp
As you can see the list I published recently was correct. Its pretty easy really - Stores with leases up losing money and not fitting the Image will be shut.Many of these are tired and old and are out of the demographic.The total closures is forecast at 63 with some changing to Argos.
---
20/03/2013 10:24:00
Timber
By larla gush
I JUST WENT TO MY LOCAL HOMEBASE IN READING CALCOT ON MONDAY TO GET SOME PAINT AND THEY HAVE KNOCKED DOWN THE BUILDING NEXT TO IT TO BUILD THE CAR PARK FOR NEW IKEA STORE , WILL NOT BE LONG TILL THE HOMEBASE STORE WILL SHUT NOW I QUESS
---
15/03/2013 08:44:00
It used to be good
By I escaped
I worked for HB for 16 years , latterly as a Store Manager. I totally agree that when Sainsburys sold HB it was the begnning of the end. The acquisition of Texas was difficult inheriting many poor stores and staff along with some very good staff. The demographic was totaly different. Customer service now seems atrocious, big big mistake. I still have friends in HB in Senior Management , they would leave if they can find an attractive proposition. I think it'll struggle on in a much reduced form. Sadly B&Q is even worse, service is non existent.
---
10/03/2013 09:51:00
Mr Jake Howe
By Steve Parkin
Having read Mr Howes comments i find rather hard to beleive what he says is true about Homebase might close the store at Barnstaple after they have invested a huge ammount in the garden center and a brand new showroom? Has Mr howe an issue with the company i wonder ? In this time of hardship people being made redundant has he ANY feelings for the staff at these stores who migth see his comments
---
05/03/2013 21:17:00
silly
By rose wells
i think that kenny needs to read into this before putting load of hear say , my local store in Reading Calcot will go shortly i know the girl on the till is looking for other jobs. Shame
---
04/03/2013 21:04:00
Store closures
By Jake Howe
I wonder if Kenny still thinks I am talking rubbish now. This months board meeting confirmed 2 of the per mentioned closures. More on their way
---
01/03/2013 22:12:00
By the ghost
homebase is going strong and making significant pfrofit
---
25/02/2013 23:08:00
sales now on
By mrs Azahi
i've just read on the internet that Homebase are increasing their discounts in stores that are going to close , i think i will wait till the last 5 days before closing and get 90% off i think.
---
21/02/2013 23:25:00
who cares
By mr smith
im not a huge fan of Homebase , i brought garden products and paint in the past and have always paid more than say if i went elsewhere, i dont even use NECTAR CARD anymore, closing stores dont bother me really.
---
19/02/2013 21:40:00
fill in
By toni clarke
i heard my local store will close soon , supervisors and staff have started to look for alternative employment and some have found other jobs even the Manager , but they have not taken new staff they have filled there positions with staff from other stores so it cant be HEAR SAY.
---
18/02/2013 22:06:00
too much hear say going on here!!!
By kenny james
nice to read all the hear say comments and scare mongering by people who havent got a clue!, to put a list of stores that are suppose to be closing without concrete evidence should be backed up with proper evidence.
---
17/02/2013 10:40:00
going
By jo r
i worked in a homebase shop and i think its so sad that the internet is taking over and soon there will be NO shops
---
11/02/2013 17:11:00
homebase closing
By mr bang
i ve heard that seven shops will close this year and a further nine next year from a colleague in my local store , the country will not have many stores left, i espect B & Q will gain sales out of it.
---
10/02/2013 23:18:00
4 More stores to go?
By Jake Howe
I heard today (from a property developer) that Homebase is "actively looking" to get out of 4 South West sites ASAP either by off loading the lease or possibly just throwing in the towel. Bodmin, Taunton, Barnstaple and Honiton. I used to shop in the Barnstaple store as it had a cracking garden centre, really top notch with great quality plants and staff, the current management team seem not to be coping and last time I went in half the plants were dead, a real shame for the staff in these stores....and the plants
---
15/01/2013 23:40:00
HOMEBASE
By kate burns
i just read your article on homebase closing 40 stores and i think that this company does not want to end up like MFI, FOCUS DIY, COMET, and HMV maybe whever or not it will save it from the others is a matter of wait and see.
---
10/01/2013 21:27:00
Homebase
By Not Relevant
I worked for Homebase for 17 years until 2005 (Year of the Manager.......cull) When Sainsbury s some years earlier sadly sold them to Venture capitalists the writing was on the wall, a brilliant company destined to fail, it is with great sadness I read of the imminent demise of many of the stores I either ran or was in some way connected with. It is true that the options the HRG at this economically difficult time dictate that this may be the correct thing to do HOWEVER this could have been avoided much earlier when the decision men integrated Texas and more latterly some Focus stores many of which should never have been converted. Market share and dominance seemed more important than the likely value of the estate in say 10 years forth. Many fine Managers were lost and many ignorant senior ones kept, and look where they are now, perhaps they should have listened to the wise ones rather than dismiss them for what in hindsight was relevant advice. I rest my case and hope those affected can find suitable employment elsewhere
---
09/01/2013 18:03:00
Birmingham closures
By simon mont
My friend has worked for the business in excess of 15 years and she believes at least 3 stores are scheduled to close in Birmingham area in 2013 due to lease expiring
---
02/01/2013 11:36:00
whos first
By james barlow
does anyone know which stores are closing in 2013 is Reading Calcot Going Thanks.
---
02/01/2013 11:34:00
Stores closing
By diyman
Homebase needs to get back to simply trading the space in there stores better as Texas homecare did..Stop this Habitat ..expensive superior image..... with focus Diy gone there can be no excuses to not gaining market increase... otherwise directors board needs shake up and more new blood... they wouldnt except management not reacting in poor performing store ?
---
23/12/2012 17:32:00
here to late
By julie sutton
i just read in the paper that the HOMEBASE store in HEREFORD is to close down january 19 th 2013 and the staff are having meetings to see if ther will be any alternative employment for any of them with HRG.
---
23/12/2012 10:03:00
purley way
By el
Store is gone there. shame as i found the few staff there helpful.
---
20/12/2012 22:37:00
Closing Down
By Robin DasGupp
Reading C.
Blackheath.
Merton.
Taunton.
Tonbridge
Two in Ireland
Liverpool
Two in Birmingham
---
20/12/2012 14:46:00
no service
By samuel mans
i only ever go in HOMEBASE twice a year as i do find the staff a lot less friendly and helpful than B&Q ,B&M HOMESTORES, and WICKES maybe this is to do with staff training . i am not surprised at all that stores are closing really.
---
19/12/2012 16:56:00
gone gone
By craig whitely
i heard from a member of staff that the Reading Calcot store as already shut down this week , staff are in there to tidy up the loose ends. the lease runs out in 2013
---
19/12/2012 14:51:00
Redundant
By Rachel
I believe the lease is up in feb 2014,
Time to start looking else where now :(
---
19/12/2012 11:58:00
leases
By bob brown
when the lease expires in 2014 , most likely the store will close at the end of the tax year usually in march that year
---
19/12/2012 10:42:00
lost hope
By debbie scofield
my experience in HOMEBASE is that they do sell a lot of old tack which takes up a lot of space in your house but i find B & Q and WICKES are more your DIY STORES that improve your home.
---
19/12/2012 07:35:00
Disappointed
By Rachel
Tge store I wirk in will be closing in 2014 when the lease expires, I was told that all stores where the lease us set to expire in the next few years will be closed, turns out to be around 65 stores!
---
18/12/2012 22:36:00
black hole
By david black
i think HOMEBASE reason to close 40 stores within next 5 years is because they do not want to end up in a black hole like other retailers FOCUS DIY , MFI , COMET who's fate was liquidation. The sad thing will be for the worker's who will lose there jobs.
---
14/12/2012 17:39:00
Blackwater closing
By Chloe smith
Our local Homebase is being closed in Blackwater near Camberley, there is rumour that they are knocking down the building and replacing it with a Next
---
10/12/2012 12:17:00
WOW 'Really'
By mrs mangle
I do shop in HOMEBASE about 3 times a year mostly on 15% weekends as i do find them rather over pricon a lot of items against there rivals like B & Q or WICKES .I Think they are doing the right thing in to bring there stores down to 300 but it will be sad for the management and staff in the stores they are closing losing there jobs.
---
07/12/2012 21:37:00
TO CLOSE DOWN
By debbie
My Friend works in Homebase in the GARDEN CENTRE she been there 15 years and she does not think the store will be open much longer and have not been informed by the company only by what she has read on line and in a magazine. Terrible Really i think
---
07/12/2012 11:06:00
No Respect
By rupert conway
Homebase have got NO RESPECT for the workers who will lose their jobs . My local Homebase lease expires in 2013 and the staff are feathe worst, even thinking it will close by april No member of staff have been informed by Head Office yetnot even Management. Disgrace!.
---
07/12/2012 09:44:00
which ones
By pamala wilson
Anybody knows Which stores are to close and when. i do shop in Homebase and find my local shop empty mostly when i go in there thats all.
---
27/11/2012 20:21:00
Rude!
By Rachel
I work for the company and have been informed by my local paper that the store is closing and also now on the website.
I think it is a disgrace that the company don't feel the need to share such information with the staff.
Homebase you are a shambles!!!!
---
22/11/2012 17:35:00
Homebase
By Richard Pembroke
my local store calcot will close they will build a ikea in its placewhen there lease runs out in 2013
---
11/11/2012 22:25:00
Homebase to close 40 stores over next five years
By kenny james
jake howe, the home retail group which is owned by shareholders purchased homebase not argos!!, the announcement of 40 store closures will be mainly a high percentage of stores coming up to the end of there leases and not due to poor performances based on store turnover obviously this will be taking into consideration when leases of stores will be coming up for renewal also in this current struggling financial climate it is wise for any company to diverse there business for which homebase is trying its best to do to survive the difficult times ahead for which also every business in the uk is at the moment also finding difficult as sadly reported quite often lately many companies are going into receivership and going bust, it would obviously be a better long term business decision for homebase to unfortunately have to make the decision to close upto 40 stores and restructure its selling policy wether it be selling paint,timber,dvd's or even kitchen scales than to close the whole 340 stores.
---
08/11/2012 00:24:00
What a waste of Money
By Jake Howe
Argos invested millions to purchase Homebase and Millions more to add mezaline floors to most of the estate. Paul Loft and his team have done a terrible job with year on year sales declines despite competition closing (Focus, MFI etc). Homebase never fails to dissapoint nowadays with low stock levels throughouyt the store and a more than a confused offer....what do they sell now, paint, timber, dvd's, kitchen scales?
---
04/11/2012 19:23:00
charming
By summer johnson
Not very good even the staff haven't been told yet, but then with thats not a suprise with Home retail group!
---
02/11/2012 22:05:00
Homebase to close 40 stores over next five years
By Paul Wood
Every Business needs to move forward, however it is a great shame that the staff in the business have to find out by reading it here as there has been no internal announcment. This could have been handled very differently
---
01/11/2012 13:52:00
End of the sheds
By Billbo Baggins
Beware everyone who thinks closing down large stores will help the independent. Watch your backs as we saw with the food retailers when they run out of ways to make money from large stores they go back to the High Street. Look at the likes of Screwfix in Shepton Mallet this won't be the last of these. With logistics set up already to supply trade counters whats to stop them entering a High Street near you?
---
DIYWeek.net does not edit comments which are submitted directly by our users to express their own views. Please report abuse of our comment system here.
Back to main news page

© Datateam Business Media Limited 2012. DIY Week.net news articles may be copied or forwarded for individual use only. No other reproduction or distribution is permitted without prior written consent.