Product News
Published on 19 - October - 2012
A new direction for Kelkay
Kelkay is moving into paving maintenance and care to extend its offer, launching a new Gardenstone Perfect Paving range comprising Cleaner, Sealer and Colour Booster.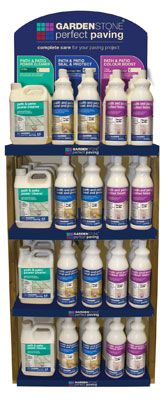 The products are available in manageable quantities either on the dedicated stand, designed to fit within Kelkay's new paving merchandising concept, or individually.
Kelkay says the Colour Booster is the most inventive product. Unlike an enhancer it adds an element of colour to boost the existing shade, either buff or grey.
For more information contact:
Kelkay
Back to main news page