News
Published on 15 - October - 2012
B&Q sublets store to Asda
B&Q has kicked off a series of multi-channel initiatives with the splitting of its 120,000 sq ft Belvedere store, subletting half the space to a new small-scale Asda supermarket.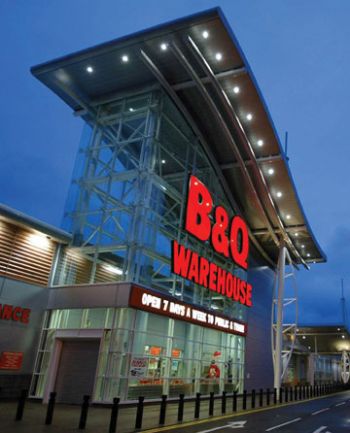 B&Q is rolling out the changes for 2013
The move is a first for the Kingfisher-owned DIY retailer, whose bosses hinted at space-changing plans during a trading update over the summer. At the time, Kingfisher boss Ian Cheshire said: "Property is extremely expensive in the UK. Online will continue to take share and margin out of space... We have identified areas we would like to stay and have re-geared and taken on new leases on those for a rent reduction."
The new-look B&Q Belvedere is due to re-launch on October 26. It comes following the announcement that 220 head office workers
are being made redundant
by B&Q as part of Kingfisher's plans to offer a more streamlined, customer-focused presence.
Speaking after the retailer's Q1 trading update, Kingfisher's group chief operating officer Euan Sutherland spoke about B&Q's store plans for the future. "It's about turning... a threat into an opportunity. It's: 'what can we do with the space?' It's not: 'it's a big warehouse, it's a problem.'
"People are downsizing stores and looking for smaller footprints. The major players are not going to expand. Space is declining."
DIY.com has also been earmarked for changes in the coming year, with the aim for B&Q's e-commerce trading to account for 10% of overall sales in the next 3-5 years, according to reports. New customer director Steve Robinson, who was appointed earlier this year, is hoping to develop the SKU offering from 10,000 to more than 20,000.
Project Darwin, a three-year initiative at Kingfisher, will see B&Q incorporate some of the practices used by Screwfix, which already operates from a successful multi-channel model.
Comments
---
30/10/2012 19:46:00
b&q
By jay golding
they say that they want to be more customer focused but my local store in Northampton, has no customer service desk and the most experienced staff are clearly not listened to it even takes 30 mins to see a manager and most of them are rude.
---
18/10/2012 13:34:00
B&Q
By Chris
Its now impossible to shop in B&Q due to awful availability, staff who clearly have no clue and dont care and prices for the basics on the rise almost weekly! Its far from a suprise to the consumer that the co is struggling to meet bills and pay its way. How can they expect to be taken seriously???
---
18/10/2012 07:43:00
B&Q
By Shaz
I was in this store in Belvedere whilst they turned everything upside down it was a shambles in there every time I've been there lately. Only staff in there are the ones revamping the store and most can't string a sentence together when I've asked for help.
---
16/10/2012 14:05:00
b&q
By jay
the only reason B&Q are subletting is the store is unprofitable they have done this in Northern ireland to toys r us etc already yrs ago
WE ARE SHOPPING ON LINE BECAUSE ITS CHEAPER AND AVAILABILITY IS BETTER YOUR LOCAL STORE NOW HAS SERVICE LEVELS OF ABOUT 95% COMPARED TO 99 5 YRS AGO
its about saving time and money B&Q are on the decline
---
DIYWeek.net does not edit comments which are submitted directly by our users to express their own views. Please report abuse of our comment system here.
Back to main news page

© Datateam Business Media Limited 2012. DIY Week.net news articles may be copied or forwarded for individual use only. No other reproduction or distribution is permitted without prior written consent.