News
Published on 9 - October - 2012
B&Q cuts 220 head office jobs
Kingfisher-owned B&Q is making nearly 20% of its head office staff redundant, cutting 220 of the 1,200 jobs based from its Hampshire headquarters in order to deliver a more "agile" service to its customers.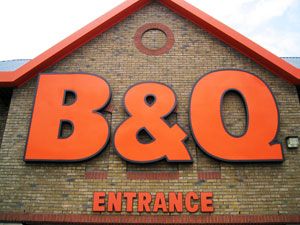 The redundancies are part of Kingfisher's
The retailer has also created 100 new head office roles. Those who have been made redundant were notified today, and there will be a 90 day consultation period. B&Q told DIY Week it was "doing everything it can for those people who are affected today, including enhanced redundancy packages, which go way beyond statutory requirements."
In a statement the retailer added: "A very different approach to creating [a] new organisation structure has taken place over the last few months and everyone in the team has been involved in this approach to create a more customer-focused, agile, omni-channel retailer.
"The new structure includes many new and different roles and changes to ways of working to ensure that B&Q is building sustainable jobs for the future and planning for growth."
B&Q people director Fraser Longden said: "We recognise this is a difficult time for everyone and thank everyone for their contributions to the business and this process; these changes are fundamental to creating sustainable jobs and the future growth of the business."
Speaking as Kingfisher announced its H1 results recently, divisional ceo for B&Q Kevin O'Byrne admitted the next few months would bring "possible redundancies". The board confirmed these would likely befall the 1,200-strong head office work force based in Cheshire Way.
"We are streamlining the business and making sure everyone is in the right place," he added. "If we are looking at redesigning it, there will be job losses." At the time, Kingfisher could not confirm just how many redundancies would be made.
Comments
---
13/11/2012 09:33:00
B&Q
By JAY
B&Q has become a cumbersome supertanker and needs to be slimmed down however this should be at the regional level they have staff in Glasgo dublin etc duplicating effort
get staff with experience back in stores the ex wollworths approach of part timer s is whats ruining the business
---
16/10/2012 12:15:00
Really!
By Decorator Centre
I'm surprised to read the comment made here my our industry fellow. Whilst B&Q and others may have taken business away to the far east they did so like every other major retailer around the world because commercial conditions made it the right commercial decision and because the UK generally became uncompetitive and to a large degree remains so. It is the role of UK business and government to come together and lever taxation instruments as an incentive for the kind of investments needed to regain our competitiveness. There are platforms out there such as apprenticeships, grants, and patent box which can be used to add value to British suppliers but much more is needed and fast. Value alone does not come from best cost (which suppliers understand as lowest cost) of course and from my own experiences with B&Q they welcome consumer-driven innovation in line with their objectives.
In my dealings as a supplier to B&Q I have experienced different levels of business but I have found them fair and a British business that explains their decision criteria quite well. Their objectives and KPIs are clearly published for all suppliers to interpret.
B&Q remains a major employer still, and those affected have families and have to go into Christmas period with this on their shoulders.
The DIY market would be a better place if we didn't celebrate others misfortunes, but instead put that energy into creating sustainable value so this doesn't happen again.
Decorator Centre
---
13/10/2012 22:47:00
B&Q Job losses
By John, Manufacturer / Supplier
My Heart Bleeds,
Maybe now those people will get a taste of what its like when your customers decide to source from China where wages are 60p an hour. And dont worry if your a worker is ILL, theres another 50 million chinese and their kids waiting to take thier place in a sweat shop and work on even crapper wages.
Meanwhile Big retailer takes 313% margin, while UK factory works on 1%.
We now sell only sell on line Direct or to independants, and we are all very happy.
RIP Big Retailer, I will send you some pictures of the demolished factories UP North.
P.S. this happened under a labour government !
---
DIYWeek.net does not edit comments which are submitted directly by our users to express their own views. Please report abuse of our comment system here.
Back to main news page

© Datateam Business Media Limited 2012. DIY Week.net news articles may be copied or forwarded for individual use only. No other reproduction or distribution is permitted without prior written consent.