News
Published on 21 - September - 2012
Glee 2012: Quality over quantity
"Less is more" - one of the visitor comments chalked up on the trend tunnel suggestion board, and a thematic response from exhibitors at this year's all-new Glee, which debuted at the NEC Birmingham this week.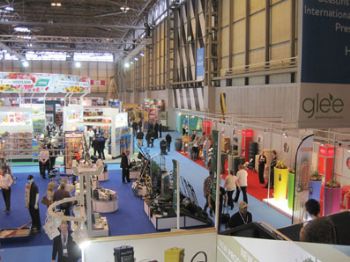 Exhibitors painted a mixed picture of Glee 2012
While 2012 marked a new direction for Glee with the introduction of new features including a food and catering zone, guided tours and a shop window product display, the scaled-back square footage didn't go unnoticed by exhibitors and visitors.
Speaking exclusively to DIY Week on the show floor, big name exhibitors including Stewart Garden, Scotts Miracle-Gro and Bosmere remarked on the show's smaller size, but added that this didn't necessarily equate to smaller benefits.
"Sometimes you might have a higher footfall but you get people wandering around aimlessly," Bosmere sales director Steve Millington said. "Now, we're getting more people on stand who are much more focused, resulting in better quality leads."
The supplier was on top form, having picked up leads from three top garden centre chains by midday Tuesday. Scotts' marketing head Paula Parker also pointed out the quality of the customers, adding: "We've been kept very busy, not as busy as last year but there have been very good quality customers. A lot of retailers come just for the one day, we've found."
Stewart Garden marketing manager Alan Slack said that the majority of their retailers on stand were independents, and mostly returning customers, although the supplier had also seen "some new, and a spinkling of export." He added: "While we're here, we're having a good show, but Glee's shrinking is a concern. It would be good to see Glee return to its former glory."
And, while exhibitors Town & Country and Vitax keenly pointed out that their footfall had not been negatively affected at all by the smaller show - Vitax's sales manager Colin Wetherley-Mein said the number of people on stand had been "even better than last year" - some were not so positive.
"If things don't change, Glee will curl up and die," Maingate's founder and self-proclaimed 'Glee veteran' Ole Valentin told DIY Week. "We've been coming here 27 years, and it's become far too small. There aren't enough retailers here, the show is going backwards. We saw it coming - we've been saying to our customers for weeks 'We'll see you at Glee' and they've replied 'No you won't!' It's too small for them now to justify taking the time and expense to come, but ironically the reason it's too small is because there aren't enough of them! The show is biting its own tail!
"I think there are too many shows too close together in the same place, we were only up here [at the NEC] a few weeks ago for Autumn Fair. The organisers should get together and look at amalgamating shows to make it easier on exhibitors and retailers."
Another suggestion came from Everbuild business manager Adam Cross, who said he had been "disappointed" with the footfall at this year's show. "If the show just ran over two days rather than three, I think people would make more effort. The first and last hours are always dead - two days would be busier I think, as it is three days is just mediocre."
More comment from retailers and visitors, an in-depth account of the show's seminars and a review of the show's new features - plus the top product launches - will appear in the Glee Review issue of DIY Week, out October 19.
Comments
---
27/09/2012 20:00:00
Glee 2012
By Tony Seaman
I have been going to the Glee show nearly every year since 1995 and HALL 5 used to be nothing but Garden Machinery. The only GM company who bother now are Handy's as they are involved in the GC trade. I wonder when the organisers are going to hold their hands up and say ok we made a mistake, lets try and get the Solex and PATS companies back on board to make this show worth while coming to. Reducing the days wont help because the amount of stand there this year would fill one hall and take at least 5 hours to go round so why not make it a one day on a Monday show?
---
DIYWeek.net does not edit comments which are submitted directly by our users to express their own views. Please report abuse of our comment system here.
Back to main news page

© Datateam Business Media Limited 2012. DIY Week.net news articles may be copied or forwarded for individual use only. No other reproduction or distribution is permitted without prior written consent.