News
Published on 31 - August - 2012
New kitchen comparison site compares B&Q, Homebase and Wickes
The Insight Retail Group has launched kitchen-compare.com to help enable consumers to better navigate the different kitchen-buying options from the country's largest home improvement retailers.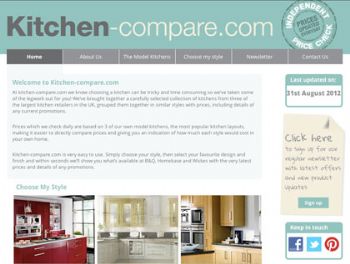 The website went live this week
According to IRG, consumers often spend up to a year planning a new kitchen, but it is during the next stage the "Valuation Phase" when quotations flood in and the process becomes confusing. The group claims its new website is the first to provide an independently price-checked comparison to make the decision and buying process easier.
The site has been designed to be user-friendly and features three of IRG's own 'model kitchen' designs which incorporate all that is needed for a finished kitchen.
IRG's commercial director Steve Collinge said: "We launched Kitchen-compare.com in response to the frustration someconsumers experience after a quotation ends up being twice the price they expected for their dream kitchen. We want to cut through the confusion, save time and clarify exactly how much a kitchen will cost so consumers can decide where to purchase from.
"It is our aim to present consumers with clear, up-to-date and consistent price comparisons across the major kitchen retailers, without them ever having to leave the comfort of their own home. We are initially comparing three leading retailers - B&Q, Homebase and Wickes - and will be adding more over the coming months."
Comments
---
03/12/2012 22:31:00
What about Homebase ''Essentials'' Range
By Anonymous
Homebase offer an entry range comparable in quality and cheaper in price that the B&Q IT range. It is not advertised on this 'Independant' site.
comment above "Independant company
By Will Collinge" any relation to IRG's commercial director Steve Collinge ????? Draw on conclusions. HOmebase and Wickes will deffo not be promoting this biased site. don't be fooled
---
25/11/2012 10:15:00
Hardly a comparison
By Nick Stone
You don't include installation costs. This is the costly bit of a kitchen. Without this, the site is irrelevant. I agree with the others. It doesn't take much intelligence to work out that this site is probably not 'independent'.
---
23/11/2012 09:39:00
B&Q Dirty Tactics
By Matt
Simple a B&Q desperate ploy to con conumers into shopping with them. Funny how they appear cheapest everytime, funny how B&Q advertise it, the others dont. Rumour has it that the founder is/was a B&Q employee... amazing that
---
15/10/2012 13:43:00
Independant company
By Will Collinge
Kitchen Compare is 100% an independant comparison website. B&Q were the first to offer an advert, when Homebase and Wickes do the same in the coming months you will understand
---
15/10/2012 11:54:00
Incorrect advertising
By Paul
It seems funny how B&Q, Wicks and Homebase are the only three companies to be on this "comparison website". This is a fix by B&Q and is very misleading to the public. It should be reviewed by trading standards!!!!!
---
30/09/2012 19:11:00
Fix
By Darren
This is a link to a course being run with B&Q and insight group eg the company running this "independant" website........http://www.insightdiy.co.uk/articles-download.asp?id=210
Another point Homebase have launched a range of kitchens that are like for like against B&Q's IT (cheap) range. They are cheaper by far but don't appear in this website - funny that.
---
28/09/2012 21:25:00
Kitchen compare
By Rob
What a fix!Just as the website is launched b&q have loads of point of sale in their stores and adverts in place reference the comparison site.mmm not very independent i think.
---
17/09/2012 23:02:00
Kitchen Compare
By Darren
I am confused why as an independent kitchen comparison why B&Q have masses of detail around their products and yet Wickes and Homebase don't and how you can compare B&Q "IT" kitchen range against Homebase when they don't have a value range? Seems like some not so independant "support" fr B&Q? But then I support this does not measure service and delivery.............
---
DIYWeek.net does not edit comments which are submitted directly by our users to express their own views. Please report abuse of our comment system here.
Back to main news page

© Datateam Business Media Limited 2012. DIY Week.net news articles may be copied or forwarded for individual use only. No other reproduction or distribution is permitted without prior written consent.