News
Published on 15 - August - 2012
Shoppers camp out to get first glimpse of all-new Wilko
Broadway characters from Marilyn Monroe to the Cowardly Lion and Mary Poppins entertained hundreds of visitors to the newest Wilko store in Crawley this morning, some of whom had camped out overnight to get the first look at the experimental new format.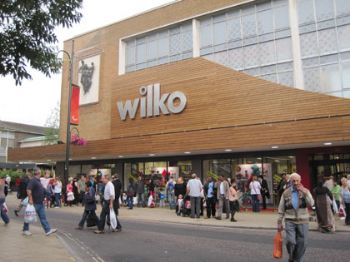 The new Wilko attracted a massive crowd in Crawley's Broadway shopping precinct
The opening was attended by Tony Wilkinson, son of the retailer's original founder James Kemsey Wilkinson, and Crawley's town Mayor Keith Blake. Both spoke of the importance of choosing the town to trial the innovative new Wilko format.
"This is the right place, we feel, to test the new store," said Tony Wilkinson during his opening speech. To the 85+ new staff force, only a handful of whom have been brought in from existing Wilkinson stores, he added: "This company has a reputation for treating people with respect. If you don't like working here, my advice would be to leave as quickly as possible!"
Wilko - the 370th retail offering from Wilkinson - features a 'space model' shop floor, a home improvement hub, places huge importance on POS and is the first multi-channel store, with a Click & Collect service and free wifi. Use of cardboard in merchandising has been reduced by an estimated 60% and the store's fixtures have been lowered to create an open plan, airy feel.
"This is the first store where you can see the back wall through the front windows," brand controller Barry Underdown told DIY Week at the store opening. "One of the main differences between this and existing stores is that we've made the store layout more logical. For example the shower heads and nozzles come from the same bathroom buyer who brings in towels and mats, so previously we'd have put them in the bathroom section. But actually it makes more sense for the parts to go with plumbing, here in DIY."
A paint mixing service, an interactive Dulux room designer, a Dulux scanner which allows the user to bring in an item from home and scan the colour so they can browse corresponding items are just a few of the features of the all-new home improvement department.
Another new feature is its interior decorating 'Shape your space' area - an idea which came directly from non-executive director Lisa Wilkinson. Here customers can browse the full range of wallpaper, paint and decorative add-ons amid feature columns, walls and stands with tips on which tools to use.
"Our interior decorating and DIY categories are one of our heritage areas, so we place a great deal of importance on it instore," added Mr Underdown. "We're not trying to be a hard, dedicated DIY retailer, more a helpful place where you can buy all the things you need to do these projects yourself."
The store is the first of three new Wilko stores to be trialled before Christmas, the next two will be located in North London and North Wales.
On the same day as the Crawley opening, Wilkinson released its latest financial update - revealing a pre-tax profit drop of almost £40m for the year ending January 27, 2012. Whilst turnover was boosted by 2.5% due to 18 new stores opening during the period, like-for-likes suffered a "small decline" according to bosses.
Chief executive officer S R Mitchell remained optimistic, however, saying: "Whilst [our pre-tax profit of £22.7m] is considerably less than last year, or than we planned, it is an achievement to be proud of in such a tough trading environment."
· For a more detailed look at Wilkinson's latest Wilko project and its financial standing, see the August 24 edition of DIY Week.
DIYWeek.net does not edit comments which are submitted directly by our users to express their own views. Please report abuse of our comment system here.
Back to main news page

© Datateam Business Media Limited 2012. DIY Week.net news articles may be copied or forwarded for individual use only. No other reproduction or distribution is permitted without prior written consent.