Product News
Published on 3 - August - 2012
"Scorching summer savings" from CK Tools' Avit
Cark Kammerling International says retailers can look on the bright side despite summer being a washout, thanks to a new flood of saving across its DIY brand, Avit.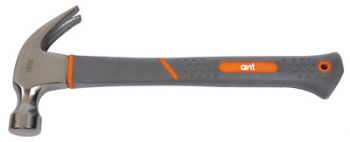 Avit's Claw Hammer is among the discounted items
CK Tools has slashed prices across its Avit brand throughout August, providing stockists with "extremely competitive price points".
Available for six weeks from July 23 - August 31 throughout the UK, discounts of up to 64% will apply to popular products across hand tools and Personal Protective Equipment (PPE).
This includes Avit's Claw Hammer (16oz) down to a one-off price of £2.99 net. Also included is Avit's Club Hammer, Brick Bolster, 4-piece Wood Chisel Set, Tri-Cut Handsaw, Wraparound Safety Glasses and Premium Disposable Mask.
For more information contact:
Carl Kammerling International Ltd
Back to main news page