News
Published on 1 - August - 2012
Slap on the wrist for Scotts' Miracle-Gro
The ASA has banned an advert for a Miracle-Gro peat-free compost product because it said manufacturers The Scotts Company did not have adequate substantiation for the ad's "best by test" claims.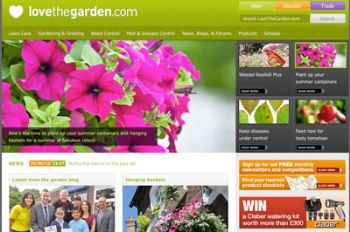 The "misleading" ad was shown on Scotts' 'love the garden' website
The issue arose when a complainant questioned the "independent trials" that Scotts claimed to prove its Miracle-Gro Organic Choice All Purpose Peat Free Compost grew plants bigger than other peat-free products was misleading and could be substantiated.
In response, The Scotts Company Ltd said the claim was based on two independent trials undertaken in 2009, which compared the Miracle-Gro peat-free compost with competing peat-free composts. Full summaries and reports of those trials were provided, and Scotts said the results of those independent trials were supported by three other trials it had conducted in-house, for which it also provided summaries and reports.
The supplier said the choice of which comparison products to include in the 2009 trials had been based on data sourced from a market research group between January and August 2008. Scotts provided data relating to overall compost sales between 2008 and 2012 and said that data showed it had two key competitors in the compost market between 2008 up to 2012. Scotts said the market research company, and other sources of sales data in the sector, did not differentiate between peat-containing and peat-free products, since the peat-free sector of the market remained small. Scotts had therefore selected the peat-free products offered from the leading compost brands in terms of sales, and had also included best-performing products. Copies were provided of three Which? reviews on compost, published in 2010, which Scotts said showed it had included best-performing products in the trials.
The ASA noted that the claim was based on the results of two independent trails. While the in-house trial reports were noted, the advertising watchdog decdied that as the claim in the ad was based specifically on the results of "independent trials" it could not take in-house trial results into account as evidence for the claim.
While the ASA noted that in the independent trials Scotts' product resulted in plants growing taller and bigger than those grown using other companies' products, the trials only looked at performance with tomatoes and petunias. It was considered that because Scotts' ad also claimed to "grow stronger, healthier plants, fruits and vegetables" consumers would understand the product had been tested on a wider range of fruits, veg and plants more generally. Because Scotts only used tomatoes and petunias, the ASA ruled the ad as misleading.
The advertising firm also had issue with the choice of competitors used in the peat-free trials, noting that seven different peat-free composts had been included across the three Which? 2010 tests, but only two were included in Scotts' trials. The ASA said other composts which had performed better or similarly in the Which? trials were not included in Scotts' trials, and concluded that this did not substantiate the claim that all "best-performing" peat-free products had been compared to Scotts' product.
The ad was banned, and Scotts was told to ensure it "held adequate substantiation for [its] advertising claims."
DIYWeek.net does not edit comments which are submitted directly by our users to express their own views. Please report abuse of our comment system here.
Back to main news page

© Datateam Business Media Limited 2012. DIY Week.net news articles may be copied or forwarded for individual use only. No other reproduction or distribution is permitted without prior written consent.