News
Published on 31 - July - 2012
Banks pulling financial rug from under independent stores
Banks are increasingly cutting credit facilities to independent retailers. And there have been examples where banks are pushing shopkeepers to take out personal loans to cover their business lending.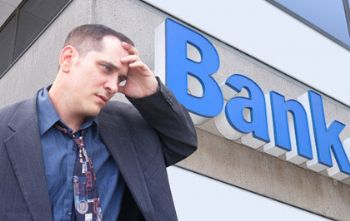 Small business owners are suffering from reduced credit facilities from banks
The
latest quarterly survey
from bira (British Independent Retail Association) confirmed that half of all independents had had their credit facilities reduced by their banks.
"Banks continue to eradicate the overdraft, with more than one in eight reporting a reduction in facilities in the last quarter alone," said the association.
As most businesses have a bank review once a year that equates to at least half of all independents having their overdrafts cut in each of the past two years - "a sobering sidelight on official encouragements to banks to increase lending," said the report.
In the latest survey a hefty, 12.99% said their lines of credit had been withdrawn. "We were hearing anecdotal evidence that the cutting of credit was happening," Michael Weedon, bira's deputy ceo, told DIY Week. "So we included a question on it in our surveys. We've been monitoring this for two years now.
With all small businesses, the overdraft is their lifeblood. What's also worrying is that the other major credit area is credit with suppliers and we have retailers having their credit insurance withdrawn."
The survey included the question: "Has your business been affected recently by the withdrawal of credit insurance cover from any of your suppliers by credit insurers?"
Some 6.58% replied: "Yes."
Mr Weedon said that hardware and housewares retailers would be less affected than more highly seasonable sectors such as fashion but garden centres could well be hit by withdrawal of insurance.
He also noted that bira was hearing examples of banks asking shop owners to take out personal credit to cover their businesses borrowing needs. "It's not just sole traders and partnerships," told DIY Week, "it's also happened to limited companies."
Asked whether this meant small retailers could well have to put their houses at risk to support their businesses, he replied: "Well, exactly."
One bank that was firmly on the side of independent retailers was bira finance, the only trade association owned bank in the country. In July, Mr Weedon said it had lent a record amount to bira members.
Comments
---
17/08/2012 13:50:00
By Anonymous
Banks are unlikely to want to help once they suspect a problem. I closed my business due to the recession which was tough after 13 years. Not long after I was recruited to work for a business recovery firm called Minotaur, my experience had a value. Having been there and with an understanding of the issues being faced, it is very satisfying to be able to provide support and assistance at such a crucial time. If this sounds like a pitch, it is. You can call me in confidence on 07809 659677.
---
03/08/2012 08:49:00
Lending to Independants
By Allan Holmes
I totally agree with the attitude of banks in tightening credit facilities. When I opened my shop I had to mortgage my home to buy the shop.
Far too many businessmen take out business loans whilst payiny themselves more than they are making in profit. Especially limited liability companies, when they go bust their creditors loose out whilst directors continue with their extravagant lifestyle.
Its hardly supprising that so many wholsalers have gone out of business in the past few years, when their customers buy stock then default on payment.
Too many directors/proprietors think that owning a business gives them some god given right to become a millionaire.
---
02/08/2012 15:48:00
Banks & lending
By David Brinsden
I sold my DIY shop 4 years ago to concentrate on my rented properties.My bank, Natwest, changed managers & at his first meeting with me simply told me that his brief was to cut everyone's overdraft, including mine!
---
02/08/2012 13:02:00
Banks & Lending
By Simon Benscher
For the past 2 years my bank have been ensuring that their "exposure" to my companies was on the decrease. Then we got involved with the Olympics and all of a sudden they were thrusting loans and increases in my OD.
Confused.com
---
DIYWeek.net does not edit comments which are submitted directly by our users to express their own views. Please report abuse of our comment system here.
Back to main news page

© Datateam Business Media Limited 2012. DIY Week.net news articles may be copied or forwarded for individual use only. No other reproduction or distribution is permitted without prior written consent.