Product News
Published on 25 - July - 2012
Win Toolpoints with Toolstream this summer
This summer's Toolstream promotion offers retailers the chance to claim a range of rewards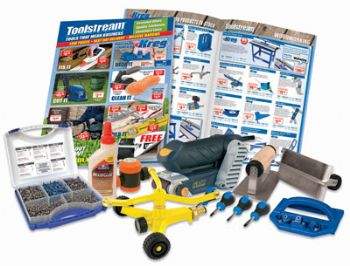 It covers existing Toolstream lines and the newly introduced Kreg range of woodworking tools.
Customers can collect Toolpoints with every order, and win a Weber barbecue, iPad, Kindle and many more products. And, this summer, the supplier is warning retailers to keep an eye out for Double Toolpoint icons.
The new Kreg Deck Jig does away with protruding screws. It makes decking quick and easy, creating strong joints that are hidden from view for a professional finish. The tool's design ensures screws are protected from the elements for a longer lasting fitting.
Also available are Kreg Jig Master System and Kreg Jig Mini, plus a choice of Kreg router tables, screws and fixings.
For more information contact:
Toolstream Ltd
Back to main news page