Product News
Published on 25 - July - 2012
New wood stains and varnishes from Everbuild
Everbuild has launched a new range of wood stains and varnishes, marking its growing expansion into the wood care market.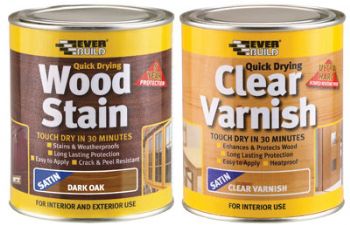 The five-year, quick drying Wood Stain is designed to enhance the natural qualities of wood, while providing a long-term weatherproof protection.
Available in six popular shades - antique pine, dark oak, natural oak, mahogany, rosewood and walnut - the range is ideal for use on smooth, planed exterior and interior timber.
Ultra-hard and heatproof Clear Varnish completes the new offering, available in both gloss and satin finishes.
It is designed to provide a scratch-resistant finish which ensures it is ideal for furniture, doors and skirtings. Both satin and gloss finishes are touch-dry within 30 seconds, according to Everbuild.
For more information contact:
Everbuild Building Products Ltd


Back to main news page