News
Published on 17 - July - 2012
Men jailed for operating Kent nursery cannabis factory
Two men have been put behind bars for their part in running an illicit cannabis-plant factory at a Kent nursery.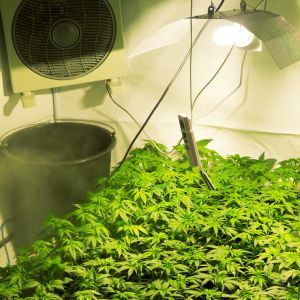 The nursery owner thought the greenhouse was being used as a workshop
Christine Huggan, owner of Kingsgate & Kenver Nurseries in Broadstairs, had innocently rented to a man the large glasshouse in which the cannabis was subsequently grown. The man has since disappeared, but Andrew Bowen and Daniel Holloway were implicated in the scheme and have been sentenced to 18 months in jail.
Canterbury Crown Court heard that the two men had been employees of the nursery, although Mrs Huggan would neither confirm nor deny that to DIY Week. Bowen claimed to have stumbled across the cannabis factory while working for the business as a handyman. A mystery man was then said to have paid him to guard the factory, with Bowen himself later hiring Holloway as security back-up.
Police investigators found large quantities of cannabis plants in the glasshouse, although they had been well concealed.
"They boarded the whole thing in, it was like a room in a greenhouse," Mrs Huggan told DIY Week. "We thought it was just a workshop. We used to hear sawing and banging. I thought they were plumbers."
The glasshouse was watched by CCTV cameras linked to a computer in an adjacent caravan, and electricity for the factory had been illegally siphoned off from the main supply.
The racket came to light when a passing police officer noticed the strong smell of the cannabis in the area, but Mrs Huggan said she was very unhappy with the way the police had handled the case and let the mastermind of the scheme escape.
"The police completely bungled the whole thing," she said, adding: "It's nothing to do with my business and it's losing me trade."
Comments
---
7/21/2012 12:28:00 AM
Daily Mail type drug hatred rocks!
By anon
This is excellent news that these drugs and drug suppliers have been removed from the market, as it does nothing but increase the value of the cannabis I am growing and selling.
.
Ain't prohibition great? For those not caught, or not in positions to bribe their way out of trouble, the costs of keeping competition out the way is picked up by the tax payer, yet people like me pay no tax at all on the products we make and supply! The likes of G4S have it cushy with the policies that give them business and slave labour, but those in drugs black markets have it even better: the political policies that create the black market mean margins of 1000% are easily attainable! What legal businesses can manage that?
---
7/17/2012 4:27:00 PM
By focusonpeace
Prohibition is causing more harm than the cannabis itself. Cannabis is a medicine for tens of thousands of people, and mankind has been using cannabis for over 6000 years. All efforts need to switch to prevention and therapy, not prosecution and punishment. Prohibition does nothing to reduce cannabis use and has created a gang culture. It needs to be legalized as prohibition disallows regulation. A kid will get turned down shop by shop trying to get alcohol or tobacco as they need ID, yet a drug dealer just needs to see money, and doesnt care who they sell to. Will legalization stop 100% of kids obtaining it? Nope, but it would be MUCH harder for them to obtain than now, we are in the worst case scenario with criminals controlling this market, and everyone seems comfortable with that. Time for a change, for a healthier more productive safer society.
---
DIYWeek.net does not edit comments which are submitted directly by our users to express their own views. Please report abuse of our comment system here.
Back to main news page

© Datateam Business Media Limited 2012. DIY Week.net news articles may be copied or forwarded for individual use only. No other reproduction or distribution is permitted without prior written consent.