News
Published on 4 - July - 2012
"We need multiples" says BRC - on Independents' Day
On the day shoppers are being urged to buy something from an independent store in recognition of Independents' Day, the British Retail Consortium says high streets can thrive only if they include multiples too.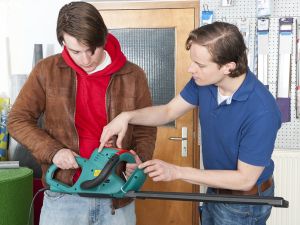 Shoppers are being urged to buy from an independent today
Organiser Skillsmart Retail is working with local retailers across the country to promote today's event, which, it says is "about championing diversity on the high street and recognising the skills behind the shop front".
To publicise the importance of patronising independent stores, retailers have been able to download Independents' Day posters and other materials for their windows, and been encouraged to get coverage of the initiative in their local media.
The BRC, however, has tempered its support for the day, saying it is wrong to believe that independents can prosper only at the expense of the multiples.
An environment where retailers of all types can succeed is what is really needed, it argues, with revival hinging on addressing fundamental issues such as long-term under-investment and soaring business rates.
It points out that the latest increase in rates added an extra £350m to retailers' tax bills when shoppers are cutting back on spending.
"The big issues determining the fate of retailers of all types are about rising costs at a time of weak consumer demand," stated BRC director general Stephen Robertson.
He said it was good to spend a day celebrating independent retail but "the best shopping locations offer a mix of recognisable big names combined with original and independent stores which give towns their individuality. It's a mistake to think one part of the sector can only succeed at the expense of the other - some of today's independents will go on to be the multiples of tomorrow."
He added that successful high streets were vital to local communities and economies. "We continue to campaign for action to support them and all the retailers trading in them. That means keeping business rates and rents affordable and investing to make each town centre an attractive place to visit which is safe, welcoming and accessible."
*
Read more about Independents' Day in DIY Week's July 13 issue
Comments
---
05/07/2012 20:48:00
Independent versus Multiples
By Laurence Burrell
I am a independent retailer in Belfast and I agree that town centres need a good mix to stay successful but the Independents create a unique shopping experience for each town.
If we only support the Multiples we will all end up shopping in "cloned"market places where all towns look the same. We will loose the remains of any community spirit left and individual identity.
---
05/07/2012 19:54:00
Independants Day??
By Tony Seaman
What a shame that we have to try and convince people that we have to celebrate Independance Day by using another meaning!! Leave the Yanks to it,I think they take great pleasure in their Day.
---
05/07/2012 17:10:00
BRC reponse re: multiples v indies
By Experienced retailer
I find it amazing that Stephen Robertson of the BRC is saying that indies cannot be supported without also supporting the multiples when, the big names have operated a policy whereby they do not care about the indies and have tried hard to remove the indies from the high street as they aim to dominate not only the high street but the town by buying out the indies properties , (if they haven't already forced them out of business) knocking them down and then building their own superstores, large car parks and sponsoring libraries, pharmacies, doctors and are even plannig to extend this to police stations. I do not believe organisations like BIRA are saying this is at the expense of the multiples but it is time that customers were re-acquainted with their independents. If this means going to your local high street instead of the out of town superstores - so be it!
---
DIYWeek.net does not edit comments which are submitted directly by our users to express their own views. Please report abuse of our comment system here.
Back to main news page

© Datateam Business Media Limited 2012. DIY Week.net news articles may be copied or forwarded for individual use only. No other reproduction or distribution is permitted without prior written consent.