People News
Published on 4 - July - 2012
Coram Showers employee takes the plunge for charity
A longstanding employee at the shower specialists swam a mile in the British Gas Great Manchester Swim to raise more than £1,500 for a hospital ward very close to his heart.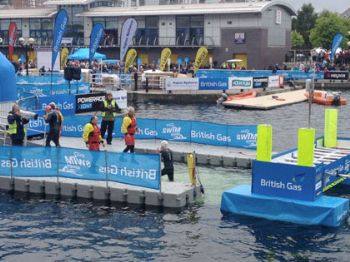 Chris Routley from Coram Showers as he finished his mile swim
Christian Routley was left paralysed from the chest down when he was hit with rare condition Transverse Myelitis in 2007. Thanks to four months of care at the Neurological Rehabilitation Ward at West Park Hospital, part of The Royal Wolverhampton Hospitals NHS Trust, he was able to take part in the swim and complete it in just over 28 minutes. Ranking in the top 450 out of more than 2,500 swimmers, Mr Routley clocked his impressive result up to the standard of care at the hospital.
Coram Showers managing director Peter Dimeloe said: "I am really proud to see Chris be so courageous taking on such a challenge - especially when 'charity starts at home' for most! Even with his commitment to Coram, he still managed to find the time to support a cause that is close to his heart and in my book that is to be applauded."
Mr Routley added: "Well, I managed to complete the swimming challenge but will admit this had to be the toughest thing I have ever put my mind to! However painful, being able to show my appreciation to all the doctors and therapists who nursed me back to a 'normal' life was all the reward I needed. To continue my appreciation I have already started preparations for next year's swim, and the training starts tonight!"
Donations can still be made to Mr Routley's
Just Giving
page.
Back to main news page