News
Published on 2 - July - 2012
Retailer predicts doom for garden centre industry
The md of online garden centre Gardening Express has said the season "is pretty much over" following months of bad weather on the tail of drought restrictions which saw garden centre sales plummet across the country.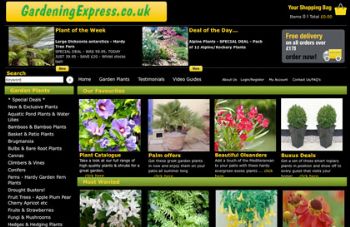 The retailer is still predicting increased sales for this year, depsite its md's worries
Despite a record-breaking March for the business, Chris Bonnett said people have been staying indoors and not thinking about their gardens. Despite this he still expects turnover at Gardening Express to increase this year, saying he's kept the business lean by adapting to the conditions and offering discounts by employing a high volume sales strategy.
The online retailer benefits from not needing a shop front, although Mr Bonnet does own a four acre nursery where he grows the bulk of his stock. With the 2012 UK summer of high-profile sporting events already underway, Mr Bonnet said he feared this could push some retailers and suppliers over the edge.
"The year did get off to a promising start," he said. "The mild winter helped, and the unseasonably warm March. As soon as the water companies started placing restrictions on water usage then the decline in sales began.
"I think customers got scared. They didn't want to spend on plants that they'd be unable to water so decided not to bother. The two months of rain that then followed came as great timing for the water companies but terrible for garden retailers.
"No one went outside, no one thought about getting their garden in shape for the summer so no one spent at the garden centres or nurseries. With the onset of the Euros and the Olympics weeks away, I can't see sales picking up at all. The season for us is pretty much over.
"I've had suppliers tell me that a lot of their customers, especially the smaller garden centres, are struggling to survive. They can't be as competitive as the big retailers on price and can't offer the same discounts on volume. For them now it's about surviving the next few months and then making a decision on whether they close for good or find a leaner way to run the business."
Gardening Express was set up 12 years ago as a hobby to fund Mr Bonnet's college studies. In 2005 he began to concentrate on the business full time, acquiring land for the nursery. Since then the business has experienced year on year growth.
He said: "Unlike traditional garden centres and nurseries I've been able to quickly adapt to the changing market. This year I've been discounting for volume and have run various exclusive promotions targeted at our existing customer base.
"My overheads are lower too. Although I have my four acre nursery, I don't need a shop to sell from which makes a huge difference. I'm sure will continue to be tough for the rest of the season, I'm still expecting turnover to be up and am hopeful that things will improve as we enter next year."
DIYWeek.net does not edit comments which are submitted directly by our users to express their own views. Please report abuse of our comment system here.
Back to main news page

© Datateam Business Media Limited 2012. DIY Week.net news articles may be copied or forwarded for individual use only. No other reproduction or distribution is permitted without prior written consent.