News
Published on 25 - June - 2012
House of Fraser calls time on Burton's Beatties
The Beatties department store in Burton-on-Trent is to close at the end of September.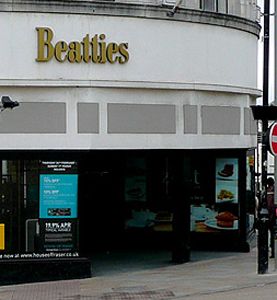 The first Beatties store was established in Wolverhampton
House of Fraser, which owns the store, told DIY Week that it had taken the decision following the failure of discussions over the renewal of its lease.
The closure of the store in Burton's Octagon Shopping Centre puts 65 jobs at risk. Thirty staff are employed by House of Fraser, whom it is hoping to place in other House of Fraser stores. The other 35 are staff of concession and brand partners.
House of Fraser said in a statement: "The Burton-on-Trent store lease ends in October 2012. Following a full review and discussions with the landlord, House of Fraser has decided that it will not be renewing the lease. Employees have been informed of the closure, and with regret the company has now entered into a period of consultation with affected staff.
"It is House of Fraser's intention to offer its staff members redeployment wherever possible and this is why the company has started the consultation period at the earliest opportunity. The store will cease to trade to the public at the end of September 2012."
The Beatties stores' history goes back to 1877, when the first was opened in Wolverhampton. House of Fraser acquired the chain in 2005. It then comprised 12 stores, but after the Burton branch closes only the Wolverhampton, Solihull, Aylesbury and Birkenhead will remain.
Comments
---
28/06/2012 13:38:00
Closure of Beatties Burton on Trent
By Anonymous
Beaties in Burton is a great store and I've used it many times. Seems to be another case of greeedy landlords. After all fewer s meanshops means having to fork out less on essentioal srvices such as security, claening and toilets. How long before we live in ghost towns? Or, perhaps theres a charity shop waiting to expand?
---
25/06/2012 21:21:00
Closure of Beatties Burton on Trent
By Gwen Cooper
such dedicated, polite and helpful staff and lovely products - Beatties you will be missed. I have used the store still they moved to Burton 1990 I think it was.
---
DIYWeek.net does not edit comments which are submitted directly by our users to express their own views. Please report abuse of our comment system here.
Back to main news page

© Datateam Business Media Limited 2012. DIY Week.net news articles may be copied or forwarded for individual use only. No other reproduction or distribution is permitted without prior written consent.