News
Published on 13 - June - 2012
Three water areas lift hosepipe bans
Hosepipe bans have now been lifted by Anglian Water, Southern Water and Thames Water.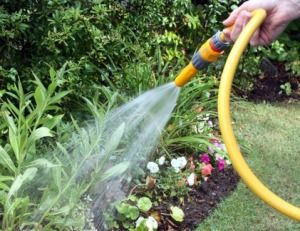 Turn the hoses back on - after the wettest April for 113 years
They imposed the restrictions on April 5, since when it has done little but rain - it was the wettest April on record - and the irony has not been lost on the water companies.
"After an extraordinary amount of rain we're lifting the hosepipe ban," is how Thames Water headed up its announcement. Once it had imposed the ban, it went on, "within hours the heavens opened and stayed open, delivering more than two-and-a-half times the average rainfall in April."
And at Anglian Water, director of water services Paul Valleley, said: "Almost from the moment we announced the ban it started raining and April turned out to be the wettest in our 113-year records."
The lifting of bans means that garden centres will now be able to water their plants as necessary, and can also expect to see sales of hoses and other watering equipment improve.
Anglian Water serves customers in East Anglia and the Midland, Thames Water covers London and the Thames Valley and Southern Water Kent, Sussex and Hampshire, though it did not impose a ban in Hampshire. Between them they have more than 15m customers.
Anglian Water said it was confident that supplies were now secure this summer without the need for further restrictions. Nevertheless, all the water companies are urging users to continue to use water wisely as some groundwater aquifers remain low and are likely to remain so until they can be recharged by sustained rainfall in winter.
Said Southern Water's water quality and strategy manager, Meyrick Gough: "We have seen a great response from customers and demand has dropped considerably as a result of the wet weather and customers doing their bit, and we are very grateful for their continued support."
Sustainability director for Thames Water, Richard Aylard, also said "a heartfelt thank you to all our customers for complying with the restrictions" but added: "If you've bought a water butt this year, please keep using it."
Hosepipe bans remain in place in the areas served by South East Water, Sutton and East Surrey Water, Veolia Water Central and Veolia Water Southeast.
Comments
---
13/06/2012 19:23:00
Hosepipe ban
By Pauline Murfet
Our water is supplied by South Eastern Water, one of the companies NOT lifting the hosepipe ban. This is absolutely ridiculous. Some reservoirs are actually overflowing. Is our water supplier hoping to make some money from any fines incurred.
---
DIYWeek.net does not edit comments which are submitted directly by our users to express their own views. Please report abuse of our comment system here.
Back to main news page

© Datateam Business Media Limited 2012. DIY Week.net news articles may be copied or forwarded for individual use only. No other reproduction or distribution is permitted without prior written consent.