News
Published on 11 - June - 2012
Cash transactions 24 times cheaper for retailers than card payments
More people are paying for goods with cash than a year ago, according to new findings by the BRC.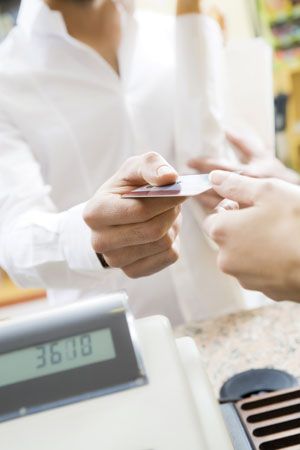 The revelations come from the BRC's annual payment survey
Due to the high charges levied on retailers by banks - which the BRC described as "unjustifiable" - the average cost to a retailer processing a credit or charge card payment was almost 35p more than a cash payment. The findings also revealed that people are shopping more often but spending less each time.
Cash was used in 5.7% more transactions in 2011, accounting for 58% of all transactions. The average cost to a retailer processing this form of payment was revealed to be 1.5p, down 0.2p on 2010 as retailers "invest to achieve greater efficiency." The cost of a debit card transaction was 9.6p, while customers using charge or credit cards cost the retailer an average of 36.2p per transaction.
The BRC survey also found cash remains the quickest way to pay taking an average 27 seconds, compared with an average 36 seconds for a card payment.
The BRC said its evidence showed "fees levied on domestic card transactions are unjustifiably high" and that it hoped the OFT will follow the example of the European Court, which last month upheld the outlawing of interchange fees by MasterCard.
BRC director of business and regulation Tom Ironside said: "Customers have less money. They're buying things only as and when they need them, shopping more often but spending less each time, and they're more likely to be paying with cash.
"In 2010 financial worries were putting people off running-up debt and they turned away from credit cards. Now times are even tougher and overall card use is down by 10.5 per cent as people have switched to cash to better manage their spending.
"But retailers are not cheerleaders for cash. Retailers sell things. Paying is a necessary final stage. It should be easy for customers to do that in the ways they want to and the cost to retailers should fairly reflect the costs banks face in processing those payments.
"There can be no justification for such dramatic differences in charges. They're an unjustifiable tax on retailers and customers. And more efficient technology should result in charges going down not up.
"That was the basis of our European case against MasterCard's charges and the judges agreed they were anti-competitive and must be removed. Our evidence shows fees on domestic cards transactions are also unjustifiably high. The Office of Fair Trading should follow the landmark European ruling with rapid action in the UK."
DIYWeek.net does not edit comments which are submitted directly by our users to express their own views. Please report abuse of our comment system here.
Back to main news page

© Datateam Business Media Limited 2012. DIY Week.net news articles may be copied or forwarded for individual use only. No other reproduction or distribution is permitted without prior written consent.