People News
Published on 7 - June - 2012
Poppleton GC waves goodbye to Steve Pickering after 50 years
York-based Poppleton Garden Centre bade farewell to 65-year-old Mr Pickering with a special barbecue recently after half a century of service.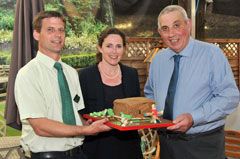 Poppleton's Michael Parker, GCG chief financial officer Antonia Jenkinson and Steve Pickering
Mr Pickering started working at Poppleton when it was a nursery in 1962. Manager of the garden centre Michael Parker said: "We are extremely grateful for the dedication shown by Steve during his time at the garden centre. He was our longest serving member of staff until he retired.
"Steve has been a key member of our team at the garden centre and is very popular with staff and customers alike. We were very sad to see him retire and on behalf of all the staff at Poppleton Garden Centre, I would like to wish him all the best for the future."
Staff from Poppleton Garden Centre, which is part of The Garden Centre Group, marked the occasion with a barbecue at the garden centre to toast Steve for his hard work.
The Garden Centre Group's chief executive Nicholas Marshall added: "I am extremely grateful to Steve for the dedication he has shown to our business. I believe firmly in the old fashioned virtues of continuity, consistency, loyalty and service."
Steve started working for the garden centre on July 23, 1962 and has seen the site progress from a nursery to a multi-department garden centre.
The father-of-one said: "I feel very fortunate to have had such a great job and I can't believe that almost 50 years of working have passed.
"When I first started in 1962 the horticultural industry was very different. Garden centres didn't really exist, there were seed and bulb shops in towns and most plants were purchased by mail order. It has been fascinating to watch the industry develop and I am very grateful to have been a part of it.
"I've held a variety of roles at the garden centre, including Assistant Manager and Manager and have been privileged to work across the business. I also had the fortune to work alongside my wife, Sue, for 40 years until she retired at the age of 60.
"There is a great team at the garden centre and I will very much miss working with them every day. It is the people that have made the job such a pleasure for me, not just staff but customers too."
Back to main news page