People News
Published on 7 - June - 2012
Garden centre workers take a 12,000ft leap for charity
Scotsdales Garden Centre's Sally Spicer and Lowri Walker of Bayer Garden both raised more than £3,700 for Greenfingers and Rugby for Heroes after jumping out of a plane at 12,000ft.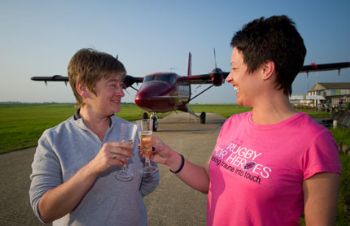 Sally Spicer and Lowri Walker decided to "do something a bit different" to raise money
Strapped to an instructor, both freefell more than 7,000 feet before the parachutes were opened.
"We wanted to do something a bit different to raise money for Garden Re-Leaf Day and Greenfingers," said Lowri Walker.
"I also wanted to support Rugby for Heroes, a charity that does incredible work for our returning service people. Our fundraising target was £2,000 and with the incredible support we've had we been able to almost double it; thank you to everyone who sponsored us.
"Our jump was postponed once because of the weather and on the second day we thought it was going to be delayed again, but the clouds cleared and they gave us the nod to go. It was a brilliant experience from start to finish."
Since Greenfingers was set up 12 years ago it has created gardens for 36 children's hospices around the country, including one in Milton, Cambridge, which is local to both skydivers.
Back to main news page